Kashmir Sapphire
Akin to blue velvet and often described as smooth and slightly 'hazy', Kashmir Sapphires are the king of sapphires.
Many times rarer than the D Flawless Diamond, Kashmir sapphires are unrivalled in their quality and are coveted by gem collectors the world over. They owe their name to the Himalayan state in northern India, where a landslide in the early 1800s laid bare a deposit of magnificent blue stones. In 1882, the Indian Museum confirmed that they were true sapphires, the mine was purchased by the Maharaja of Kashmir, and the remote valley was mined intensely until 1887, when the supply was exhausted and mining was officially halted.
Today, the remote area of the mine is heavily guarded by private police to deter thieves from entering and attempting to find one of these legendary gems. Kashmir sapphires set the standard for all sapphires, and to own one is to own a piece of history. Due to be being discovered only in the 1800s, Kashmir sapphires are often cut in an old mine cut style, with large open facets, which further enhances their velvety and 'sleepy' qualities and gives them an antique charm.
Despite many attempts over the centuries, gemmologists have been unable to discover another deposit in the area, making Kashmir sapphires all the more sought after. Sizeable Kashmir sapphires are exceptionally rare: only a handful of high quality stones over five carats exists in the world.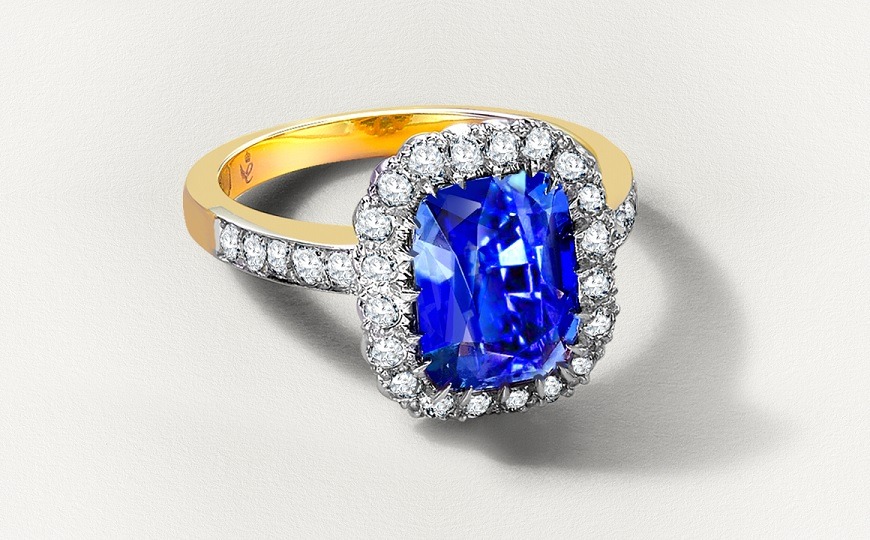 An impressive 152.35 carat Kashmir sapphire in a cabochon cut was used in a brooch for jewellery collector Wallis Simpson, The Duchess of Windsor, in 1949. And in 2019, an exceptionally rare necklace featuring 21 Kashmir sapphires of 109.08 carat with diamonds was sold for nearly $14.9 million.
Kashmir sapphires are renowned for their 'velvety' appearance: a softness that comes from light bouncing off silk-like rutile inclusions within the crystals. They are also prized for their vivid colour, ranging from deep royal blue to a rich, cornflower hue. While high quality sapphires are found in Burma, Sri Lanka and Madagascar, no other origin displays the same quality and intensity of blue as Kashmiri stones.
Since its inception, Pragnell has sought out these rare gems for its discerning clients. Kashmir sapphires rarely appear on the market, but our gem buyers occasionally discover exquisite examples in Edwardian and Art Deco jewellery. We select the very best of these, prioritising brightness and richness of colour over the 'velvetiness' that can occasionally make the gems seem sleepy or hazy. Whether kept in their original jewel or re-set into a one-of-a-kind Pragnell Masterpiece, these 200-year-old Kashmir sapphires will be treasured for generations to come.
Visit Pragnell
From Market Street to Mayfair you can be sure of warm welcome at any of our showrooms across Britain.