SORRY NO ITEMS WERE FOUND.
Please refine your search or try another search term.
Select a price range to suit your budget
SORRY NO ITEMS WERE FOUND.
Please refine the selected filters.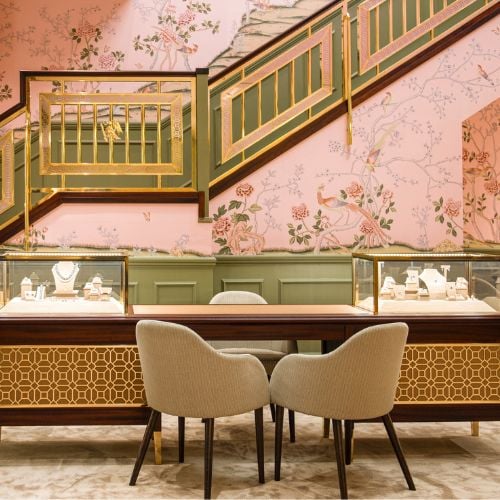 BOOK AN APPOINTMENT
Whether you book an appointment to visit us in person or opt for a virtual consultation from the comfort of your own home, you'll receive the same high standard of service and individual care and attention from our expertly trained consultants who can share designs, discuss gemstone options and even model pieces.
Frequently Asked Questions
Below are the answers to our most commonly asked questions. Should you want to find out more please feel free to Contact Us us and begin your Pragnell experience.
White gold can tarnish if it's not handled with care. We recommend that you avoid exposing your white gold watch to chemicals like chlorine and other products that may contain acid. Instead, a gentle rub with a soft watch cloth will help keep your watch looking beautiful for years to come.
The shine of a metal depends on its finish, and white gold is usually polished to a high sheen.
White gold is usually a little more expensive than yellow gold due to the other precious metals it is alloyed with. For example, palladium or platinum. These are some of the alloys which help give white gold a lustrous tonality.
White gold watches have historically done well as an investment. They are made of precious metals and built to last, giving a timeless appeal.
The easiest way to clean a white gold watch is with a soft cloth.
You can also have white gold watches refurbished as part of a service, to keep your watch in top condition Pragnell recommend having your watch serviced every few years. Find out more about our
Watch Servicing
offer.
White gold watches are for any dress occasion. White gold is a great metal because it has a subtle, elegant sheen that gives a luxurious look. It is also easy to clean, which makes it ideal for everyday wear.
About White Gold Watches
Gold has been mixed with nickel, zinc, and palladium since the early 19th century, however, white gold largely remained obscure until the 1920s. With platinum in short supply due to the demands of the military at the time, people began turning to gold, which was cheaper and equally as durable. White gold has the same value as yellow gold, providing they are being compared with the same carat weight. Carats are the only determinant of gold's purity and, therefore, its ultimate worth.

The colour of white gold is achieved by mixing gold with other white metals. In fine watchmaking, that metal is often palladium, a close cousin of platinum. White gold is commonly mistaken for platinum, palladium, and silver. Platinum and palladium are rarer metals that are more valuable than gold, and silver wears out quicker, therefore white gold offers the best of both worlds.

Combining high-grade materials with a luxurious design is an art form that many a prestigious watch manufacturer has perfected, producing alluring timepieces for both men and women of all ages. Compared to traditional yellow gold or a vintage-inspired rose gold finish, white gold watches offer a cleaner and more refined look on the wrist that appeals to lovers of the more modern-looking wristwatch. White gold watches can range from simple two-handed models to three-handed date designs, sporty chronographs, sophisticated perpetual calendars, and day-date models.
Watch Listing Page