SORRY NO ITEMS WERE FOUND.
Please refine your search or try another search term.
Select a price range to suit your budget
SORRY NO ITEMS WERE FOUND.
Please refine the selected filters.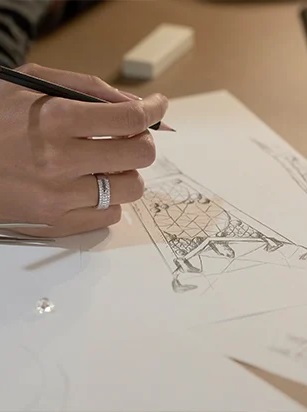 Handcrafted
Discover Our Bespoke Service
Design and create a unique jewel, custom-made just for you. We'll bring your dream to life; the only limit is your imagination.
Frequently Asked Questions
Below are the answers to our most commonly asked questions. Should you want to find out more please feel free to Contact Us us and begin your Pragnell experience.
The most popular cut is the round brilliant cut diamond. The round brilliant cut has 58 facets (faces) accurately polished to reflect all the brilliance of the diamond. The top section of the diamond is called the crown, the bottom is called the pavilion. The top facet is the largest and is called the table, the smallest facet is known as the culet and is at the base.
Every diamond is unique, and when choosing a brilliant-cut diamond, you need to choose the diamond that you are drawn to. The cut of the diamond is one of the most important factors, a well-cut diamond is bright, and will make the perfect diamond for an engagement ring.
About Brilliant Cut Engagement Rings
Scientifically proven to maximise the light return, the modern round brilliant cut, established in 1919, revolutionised the diamond industry by offering a cut of 'ideal' proportions. Technical advancements ensured every modern round brilliant cut diamond achieves total internal reflection optimising the brilliance within the stone. Modern round brilliant cuts continue to be the most popular diamond cut for engagement rings today for this very reason. Our round brilliant cut diamonds are exquisitely set into a range of handcrafted engagement ring styles from the classic solitaire, unique, vintage designs and complementary cluster surround diamond settings. All brilliant cut diamond engagement rings are beautifully finished in the precious metals of platinum and gold.
Engagement Listing Page