SORRY NO ITEMS WERE FOUND.
Please refine your search or try another search term.
Select a price range to suit your budget
SORRY NO ITEMS WERE FOUND.
Please refine the selected filters.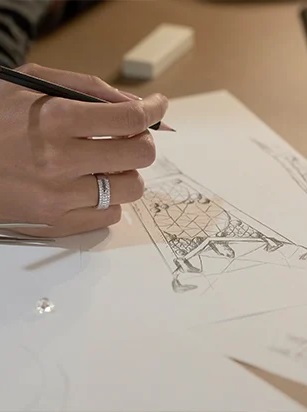 Handcrafted
Discover Our Bespoke Service
Design and create a unique jewel, custom-made just for you. We'll bring your dream to life; the only limit is your imagination.
Frequently Asked Questions
Below are the answers to our most commonly asked questions. Should you want to find out more please feel free to Contact Us us and begin your Pragnell experience.
A marquise-cut diamond is an elongated shape with pointed ends and its distinctive, dramatic shape offers a unique setting for a striking engagement ring. A marquise engagement ring is cut to maximise its size for carat weight, by giving a larger-looking stone and longer diamond surface area.
No, marquise diamonds, like any diamond are extremely durable and will not break.
The 6-prong setting is arguably the best for marquise cut diamonds because it securely holds the diamond in place but does not get in the way of the light.
You'll want to choose a marquise diamond with great shape appeal. If a diamond's appearance seems a little off, it's likely due to poor shape or asymmetry. A marquise shape should have pointed tips. The areas on either side of the tips are called "wings." Make sure that these aren't too flat or bulging.
About Marquise Cut Engagement Rings
Over time the marquise cut has developed into the cut we know today, a variation on the round brilliant cut, with fifty-eight facets to maximise the opulent sparkle of this dramatic gemstone. Due to the elongated shape, the marquise cut enhances the hands of the wearer, flattering fingers and making them appear longer and more slender. Commonly seen in a six claw setting, this setting secures the stone without obscuring the light performance. Our marquise cut diamonds are exquisitely set into a range of handcrafted engagement ring styles from the classic solitaire, unique, vintage designs and complementary cluster surround diamond settings. All marquise-cut engagement rings are beautifully finished in the precious metals of platinum and gold.
Engagement Listing Page