SORRY NO ITEMS WERE FOUND.
Please refine your search or try another search term.
Select a price range to suit your budget
SORRY NO ITEMS WERE FOUND.
Please refine the selected filters.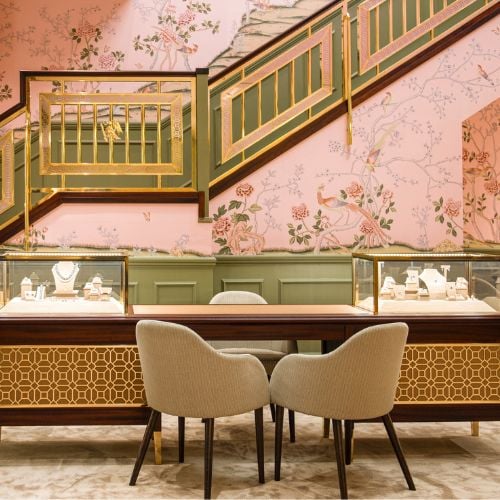 BOOK AN APPOINTMENT
Whether you book an appointment to visit us in person or opt for a virtual consultation from the comfort of your own home, you'll receive the same high standard of service and individual care and attention from our expertly trained consultants who can share designs, discuss gemstone options and even model pieces.
About Retro Jewellery
Beginning during the Second World War, the Retro period lasted until the swinging sixties, and is characterised by bold sculptural pieces gleaming in highly polished yellow and rose gold. Closely associated with the technicolour glamour of the golden age of Hollywood, Retro pieces glow in warmer gold tones, which were favoured during this time, as platinum had been reserved for wartime use.

As a sixth generation family jeweller, Pragnell are proud to continue our tradition of offering a carefully curated selection of interesting and unusual pieces of vintage retro jewellery from this exciting period.

Reviewing our extensive selection of Retro pieces, you will be mesmerised by their sculptural appeal, which perfectly relates to the current fashion for bold gold style. Flattering statement necklaces, pendants, rings, bracelets and earrings are displayed side by side to delight the eye. These pieces look fantastic worn all year round from day to night, and feature accent sparkling diamonds and vibrant precious and semi-precious gemstones.

You will always find an interesting selection of vintage Retro pieces at Pragnell, which represent the very best designs from the most famous names.
Antique Listing Page