SORRY NO ITEMS WERE FOUND.
Please refine your search or try another search term.
Select a price range to suit your budget
SORRY NO ITEMS WERE FOUND.
Please refine the selected filters.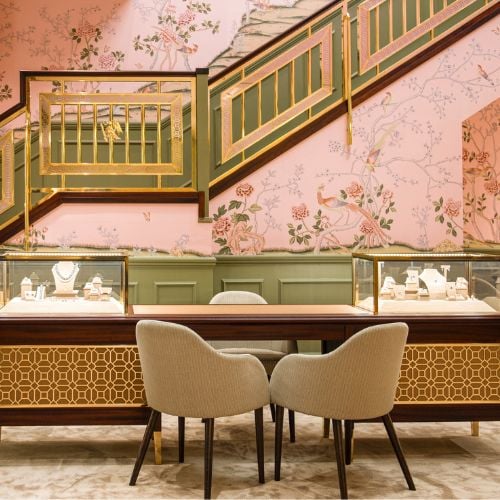 BOOK AN APPOINTMENT
Whether you book an appointment to visit us in person or opt for a virtual consultation from the comfort of your own home, you'll receive the same high standard of service and individual care and attention from our expertly trained consultants who can share designs, discuss gemstone options and even model pieces.
Frequently Asked Questions
Below are the answers to our most commonly asked questions. Should you want to find out more please feel free to Contact Us us and begin your Pragnell experience.
Diamonds are typically colourless, ranging from white to faint yellow or brown hues. However, diamonds can also occur in a variety of fancy colours, such as blue, green, pink, and even rare red and purple varieties.
Gemstones that can resemble diamond in appearance include moissanite, white sapphire, and cubic zirconia. These gems share similar brilliance and sparkle, often making them visually similar to diamond. However, each gemstone has its unique characteristics and properties, distinguishing them from natural diamonds.
To determine if a diamond is real, look for visible imperfections or inclusions under magnification, as natural diamonds often have these characteristics. Additionally, try the fog test - breathe on the diamond to create condensation; a real diamond will disperse the fog quickly, while a fake one will retain the condensation for a longer time. For a definitive assessment, consult a professional gemmologist or jeweller who can use specialised tools to accurately authenticate the diamond.
Diamonds symbolise eternal love, purity, and strength. As the "king of gemstones," diamonds have been associated with invincibility and considered a symbol of power and wealth throughout history. They are also believed to bring clarity of mind, resilience, and everlasting commitment in relationships, making them a popular choice for engagement rings and other meaningful jewellery pieces.
Yes, diamond jewellery is a timeless classic that never goes out of style. Its brilliance, elegance, and enduring symbolism of love and luxury make it a staple choice for various occasions and a beloved favourite among fashion-conscious individuals and jewellery enthusiasts worldwide.
Yes, you can wear diamond jewellery every day, as diamonds are one of the hardest substances on Earth. However, it's essential to take care and avoid exposing diamonds to harsh chemicals or activities that may cause damage to the stone or its setting. Regular cleaning and proper storage will help preserve the brilliance and beauty of your diamond jewellery for daily wear.
To care for diamond jewellery, regularly clean it with mild soapy water and a soft brush, avoiding harsh chemicals that could damage the stone or metal setting. Store diamond pieces separately or in soft pouches to prevent scratching and have them professionally inspected and cleaned by a jeweller at least once a year to ensure their brilliance and longevity.
About Diamonds
Thought to be one of the hardest substances in the world, natural diamonds date back billions of years with the diamond fittingly being named after the Greek word "adamas", which means "invincible" or "unbreakable". The traditional birthstone of April, the diamond holds significant meaning for those born in that month, thought to provide the wearer with better relationships and an increase in inner strength.

Diamonds were originally sourced from India where they were gathered from the country's rivers and streams. Traded as early as the fourth century BC, diamonds were coveted by royalty and the wealthy. The April birthstone was even believed to have healing powers and over the centuries, has been thought to be an antidote to poison and to provide protection against the plague.
Jewellery Listing Page