SORRY NO ITEMS WERE FOUND.
Please refine your search or try another search term.
Select a price range to suit your budget
SORRY NO ITEMS WERE FOUND.
Please refine the selected filters.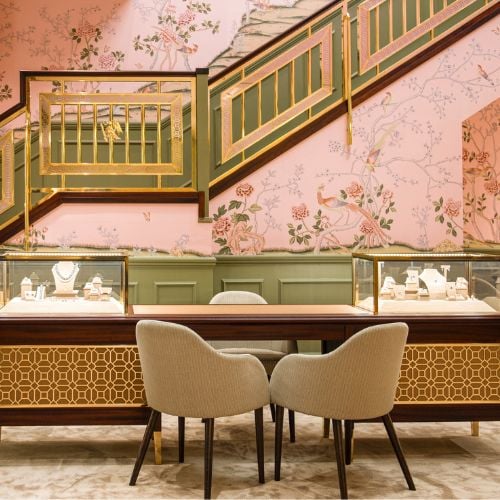 BOOK AN APPOINTMENT
Whether you book an appointment to visit us in person or opt for a virtual consultation from the comfort of your own home, you'll receive the same high standard of service and individual care and attention from our expertly trained consultants who can share designs, discuss gemstone options and even model pieces.
Frequently Asked Questions
Below are the answers to our most commonly asked questions. Should you want to find out more please feel free to Contact Us us and begin your Pragnell experience.
The demand for rose gold watches is on the rise and depending on the brand and quality of the watch, your rose gold watch may increase in value over time.
Rose gold is a dense, heavy metal so will be heavy when compared to non-gold watches. Compared to other gold watches, there is no difference.
The easiest way to clean a rose gold watch is with a soft cloth.
To keep your watch in top condition Pragnell recommend having your watch serviced every few years. Find out more about our
Watch Servicing
offer.
Rose gold watches will not tarnish like other alloys, but they can change colour over time due to the copper within the material which is sensitive to its surroundings.
A two-tone gold watch generally refers to a gold watch with more than one tone of precious metal running through it. For example, the interchanging links of rose and white gold. These gold watches are almost always made of the same purity of gold.

The term two-tone gold is often mistakenly used in place of bi-metal watches, which refer to an amalgamation of precious metals with stainless steel.
Wear a rose gold watch for formal parties or important meetings. A rose gold watch can be a statement, so only wear it when you are looking to stand out.
About Rose Gold Watches
Rose gold is a mixture of yellow gold, copper and silver. This combination gives the metal a redder colour than yellow gold naturally has whilst silver helps to tone down the redness of the copper, achieving a subtle pink shade. The copper also provides the gold with rigidity as gold is a naturally soft metal and has a unique rosy glow. When it comes to purity, rose gold is no different from yellow gold or white gold. 18K gold contains 75% gold, and in turn, 9K gold contains 38%. Rose gold does not chip and requires very little maintenance throughout its lifetime.

Rose gold initially became popular in Russia at the beginning of the 19th century, meaning rose gold is often referred to as Russian gold. Later, this red variety of gold experienced another strong revival during the 1920s Art Deco era. "Tri-coloured" rings with yellow, white and rose gold were also particularly popular. Rose gold is a subtle yet rich-looking metal.

Gold with pink tones compliments most skin tones, so it's very easy to wear. Above all, this beautiful variation of gold has a distinct vintage feel that reminds us of Old World luxury. This makes it exclusive and desirable to modern-day watch lovers.

Rose gold watches have a subtle and gentle colour which is luxurious and glamorous, without being brash or obvious. Rose gold cases and bracelets feature predominately throughout the collections of the world's finest watch brands, providing a more subtle and softer option than yellow gold.
Watch Listing Page