SORRY NO ITEMS WERE FOUND.
Please refine your search or try another search term.
Select a price range to suit your budget
SORRY NO ITEMS WERE FOUND.
Please refine the selected filters.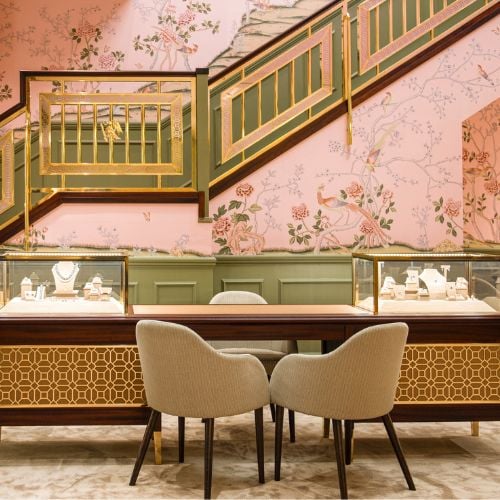 BOOK AN APPOINTMENT
Whether you book an appointment to visit us in person or opt for a virtual consultation from the comfort of your own home, you'll receive the same high standard of service and individual care and attention from our expertly trained consultants who can share designs, discuss gemstone options and even model pieces.
About Art Nouveau Jewellery
The Art Nouveau period lasted from the late 1880s until 1914, and is characterised by naturalistic flowing lines, asymmetry and movement. Spanning the decorative arts and architecture, jewellery was particularly suited to this style. As the name states, Art Nouveau attracted attention as something completely different and new when compared to the traditional heavier styles that dominated the first quarter of the 19th-century.

As a sixth generation family jeweller, Pragnell are proud to continue our tradition of offering a carefully curated selection of interesting and unusual pieces of antique Art Nouveau jewellery, comprising brooches, earrings, necklaces, rings and bracelets from this exciting period.

Our interesting collection of Art Nouveau jewels features pendants, rings and brooches gleaming in gold, diamonds, pearls and intricate enamel work. We are particularly proud to display pieces by the famed French maker, Gaston Lafitte, which showcase exceptional design and craftsmanship.
Antique Listing Page