SORRY NO ITEMS WERE FOUND.
Please refine your search or try another search term.
Select a price range to suit your budget
SORRY NO ITEMS WERE FOUND.
Please refine the selected filters.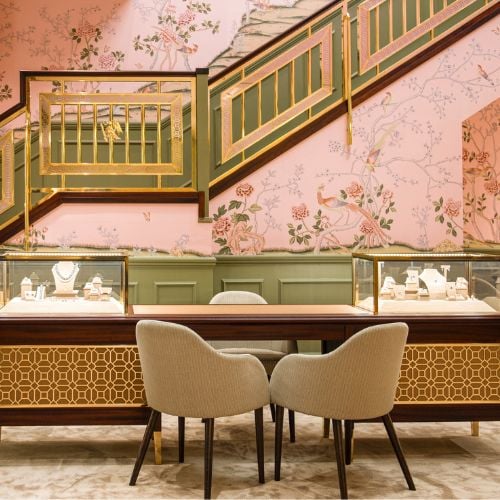 BOOK AN APPOINTMENT
Whether you book an appointment to visit us in person or opt for a virtual consultation from the comfort of your own home, you'll receive the same high standard of service and individual care and attention from our expertly trained consultants who can share designs, discuss gemstone options and even model pieces.
Frequently Asked Questions
Below are the answers to our most commonly asked questions. Should you want to find out more please feel free to Contact Us us and begin your Pragnell experience.
Pearls are typically white or cream in colour, but they can also occur in various shades of grey, black, pink, blue, and even more exotic colours. The most common and classic pearl colours are the lustrous white and creamy tones, often associated with elegance and sophistication.
To determine if pearls are real, conduct a few simple tests. First, examine the pearls closely for imperfections, as natural pearls are likely to have slight irregularities, while fake pearls are often perfectly smooth and uniform. Second, gently rub two pearls together; real pearls will create a slight gritty sensation, while fake ones will feel smooth. Alternatively, seek the assistance of a professional jeweller who can use specialised tools to accurately authenticate the pearls.
Pearls symbolise purity, wisdom, and spiritual transformation. Regarded as treasures from the sea, pearls have been associated with femininity, love, and harmony, representing timeless beauty and elegance. Their natural luminescence and unique creation process have also made them a symbol of resilience and the ability to turn challenges into something precious and beautiful.
Yes, pearl jewellery is a timeless and elegant choice that never goes out of style. Its lustrous beauty and association with sophistication make it a popular and enduring gemstone among fashion-conscious individuals and those who appreciate classic and refined pieces.
Yes, you can wear pearl jewellery every day, if you take proper care of it. Pearls are relatively delicate compared to other gemstones, so it's essential to avoid exposing them to harsh chemicals, perfumes, and excessive heat, and to store them separately from other jewellery to prevent scratching.
To care for pearl jewellery, avoid exposing it to harsh chemicals, perfumes, and lotions, which can damage the pearls' lustre. Clean gently with a soft, damp cloth after wearing to remove any residue, and store pearls separately from other jewellery to prevent scratching.
About Pearls
While most precious gemstones come from deep within the Earth, made by pressure and heat over millions of years, pearls, the most famous organic gemstone are created by marine oysters and freshwater mussels as a natural defence against an irritant such as a parasite entering their shell. The pearl forms inside the shell of the oyster or mussel as it slowly secretes layers of aragonite and conchiolin, materials that also make up its shell.

To create a freshwater pearl, the mollusc must first have reached maturity, at about three years of age. It can then take between 6 months to several years to produce a pearl. The ideal pearl is perfectly round and smooth, but many other shapes, known as baroque pearls, can be found.

Pearls were discovered before written history began and have been used as an adornment for centuries and were presented as gifts to Chinese royalty as early as 2300 BC. The ancient Greeks believed pearls were the tears from the goddess Aphrodite, while in ancient Rome, pearl jewellery was considered the ultimate status symbol. Pearls were considered so precious that Julius Caesar passed a law in the 1st century BC, limiting the wearing of pearls only to the ruling classes. The oldest fragment of pearl jewellery was found in the sarcophagus of a Persian princess that dates back to 420 BC.
Jewellery Listing Page