SORRY NO ITEMS WERE FOUND.
Please refine your search or try another search term.
Select a price range to suit your budget
SORRY NO ITEMS WERE FOUND.
Please refine the selected filters.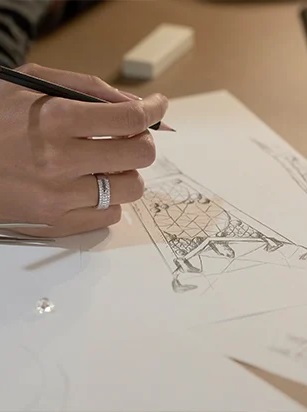 Handcrafted
Discover Our Bespoke Service
Design and create a unique jewel, custom-made just for you. We'll bring your dream to life; the only limit is your imagination.
Frequently Asked Questions
Below are the answers to our most commonly asked questions. Should you want to find out more please feel free to Contact Us us and begin your Pragnell experience.
If you're in search of a unique engagement ring that feels one-of-a-kind, then you really can't go wrong with a cluster engagement ring. Made with an assortment of stones in different cuts and sizes, cluster rings are a stunning choice for a unique engagement ring.
A cluster ring features gemstones grouped together, often with a larger gem in the centre and smaller stones surrounding the larger stone.
Cluster rings are easy to clean with warm, soapy water. Use gentle degreasing soap, such as mild dish soap, to remove residue on the ring, and gently scrub the ring with a soft bristle brush such as an old toothbrush.
You should remove your cluster engagement ring to bathe or wash your hands. Store it in a safe place so it does not slip down the drain. Avoid wearing fine jewellery when you are doing housework, gardening or participating in a sport.
About Cluster Engagement Rings
Cluster engagement rings are a captivating aesthetic that add size and sparkle to your ring. A timeless style inspired by a vintage design to showcase the mesmerising diamond at its centre by accenting the principle stone with a shimmering surround of perfectly calibrated melee diamonds. A refined, delicate border of claw or thread set round brilliant cuts is individually crafted around each hand-selected diamond to ensure it is perfectly framed to accentuate its unique cut or flawless symmetry. For coloured gemstone engagement rings, a sparkling set of colourless brilliants provide subtle sparkle that draw the eye perfectly towards the focal coveted gem.
Engagement Listing Page