The Victorian Period
An era defined by a beloved Queen who adored jewellery and whose husband was instrumental in the design of many of her most famous pieces…
The coronation of a young Queen Victoria in 1838 saw the beginning of a period of great change and innovation. Victoria enthralled her subjects and had influence over many things, including fashion, furniture, weddings and jewellery. Victorian jewellery can be split into three distinct yet gradual style periods.

The early years of the Victorian era were described as the 'Romantic' period and reflected a time of marital bliss and joyous family life for the Queen. Jewellery was decorated with intricate engravings, enamel work and sentimental motifs. With advances in train travel, wealthy Victorians visited European cities and jewellery became the souvenir of choice; bracelets of micro-mosaics depicting Roman scenes were highly desirable.
In the early Victorian era diamonds were rare and expensive. The first diamond mines were opened in South Africa in the 1860s and so mid-century diamonds were available only to the wealthy. The old favourites, natural pearls, rubies, sapphires, emeralds and amethysts along with topazes continued to be popular.

The concept of jewellery as sentimental objects was adopted by Victorians following the Queen's lead. The desire for jewellery featuring hair became mainstream; sometimes considered mourning jewellery, sometimes it was simply a token of love. Acrostic rings were given as romantic gestures, designed using mixtures of coloured gemstones to spell out words such as 'Adore' and 'Regard' or a secret message.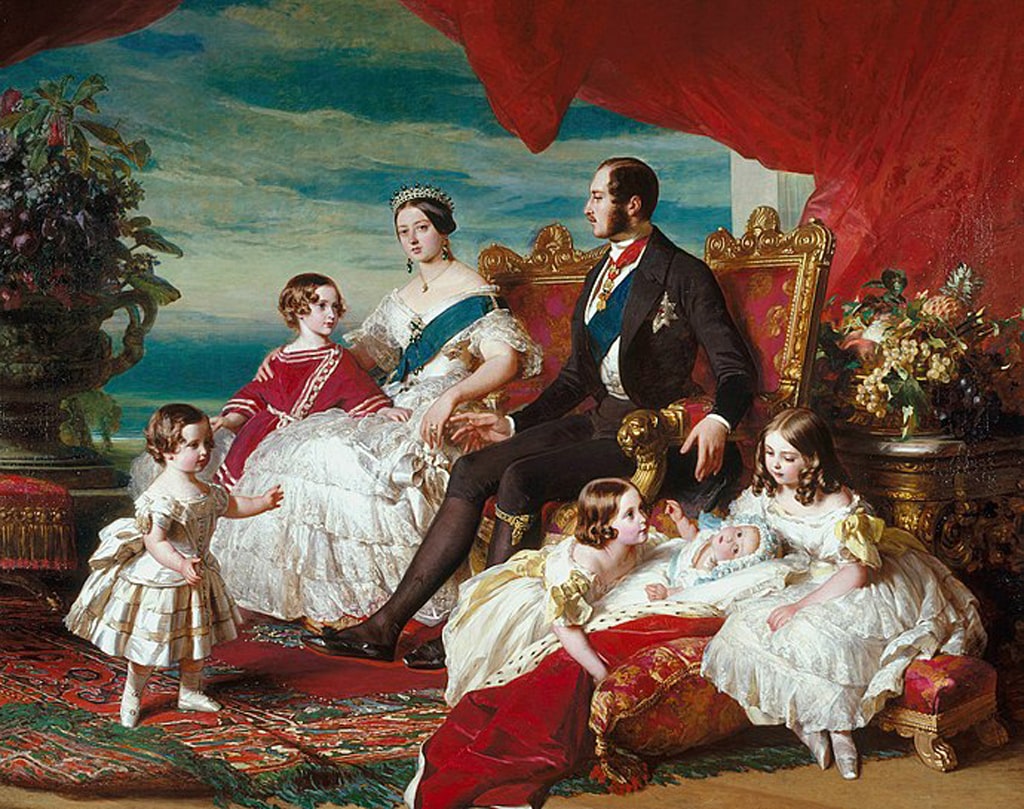 The 'Grande' period, which began in the 1860s, saw the demand for coloured gems decrease as the availability of South African diamonds grew. Settings became less ornate and the focus became the diamond. Advances in cutting allowed diamonds to be cut with a round outline, which made the perfect centre stone for the Victorian star motifs that were in vogue.

Pieces crafted in Whitby jet and onyx followed the mourning protocol for black attire after the death of Queen Victoria's mother and Prince Albert in the early 1860s. Other more ornate and celebratory pieces were made in Roman and Etruscan revival styles – tiaras adorned with garlands of leaves and earrings with decorated gold sphere drops. 'Gypsy' rings featuring diamonds in engraved star settings became popular choices to keep valuable stones safe and protected.
1885 saw the beginning of the 'Aesthetic' period, which ran until Queen Victoria's death in 1901. Artists such as Charles Dan Gibson began to portray women in a new light, his sketches of fun-loving so-called 'Gibson girls' with relaxed coiffured hairstyles created a desire for hair combs and barrettes featuring gemstones and tortoise shell. New sporting activities such as cycling made the want for large jewellery items wain; pearl stud earrings became a popular choice for daytime jewels, whilst diamonds were strictly reserved for the evening.

Following Queen Victoria's death much of her vast collection of jewels was entrusted to future English Queens. The coronation necklace which was made for Queen Victoria in 1858, features cushion cut diamonds and the 22ct Lahore diamond; it has been worn by queens and queen consorts at coronations since her death.
Antique CLP Page