SORRY NO ITEMS WERE FOUND.
Please refine your search or try another search term.
Select a price range to suit your budget
SORRY NO ITEMS WERE FOUND.
Please refine the selected filters.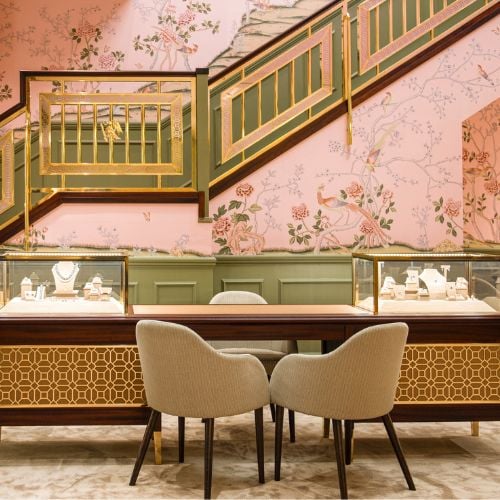 BOOK AN APPOINTMENT
Whether you book an appointment to visit us in person or opt for a virtual consultation from the comfort of your own home, you'll receive the same high standard of service and individual care and attention from our expertly trained consultants who can share designs, discuss gemstone options and even model pieces.
About Patek Philippe Watches
Patek Philippe create timepieces with unrivalled quality and reliability. In fact, many experts agree that they are the finest timepieces in the world. Their innovation, expert craftsmanship and exclusiveness make the watches rare and sought after pieces. Every Patek Philippe watch is the product of centuries of expertise and countless hours of work.

Antoni Patek and Franciszek Czapek started making watches in Geneva in 1839. They separated in 1844, but in 1845 Adrien Philippe joined Antoni Patek to form Patek Philippe. Adrien Philippe bought with him his invention of the keyless winding system. Before its invention, watches were wound with a key.

Patek Philippe remains an independent family run business based in Geneva, assembling the finest in innovative and aesthetically beautiful watches. The unmistakable style of a Patek Philippe timepiece has inspired true horological classics, creating watches that retain their irresistibility from generation to generation. Most would consider a Patek Philippe timepiece to be an irreplaceable family heirloom. Innovation is embedded in the iconic watch manufacturer's heritage. In 1923, they sold the first split-seconds chronograph wristwatch. Just two years later, in 1925, they introduced the world's first perpetual calendar wristwatch. The complicated movement had indicators which all jumped instantaneously at midnight. By 1941, Patek Philippe had begun regular production of its perpetual calendar wristwatches.

Complicated watchmaking is the supreme test of the designer's expertise and the watchmaker's skill. Grand complications, which combine a Minute Repeater, Tourbillon and Perpetual Calendar in the same case, testify to Patek Philippe's mastery of this field.
Patek Listing Page