SORRY NO ITEMS WERE FOUND.
Please refine your search or try another search term.
Select a price range to suit your budget
SORRY NO ITEMS WERE FOUND.
Please refine the selected filters.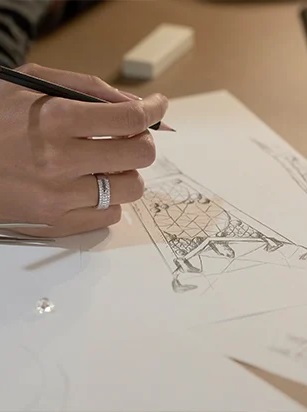 Discover Our Bespoke Service
Design and create a unique jewel, custom-made just for you. We'll bring your dream to life; the only limit is your imagination.
Frequently Asked Questions
Below are the answers to our most commonly asked questions. Should you want to find out more please feel free to Contact Us us and begin your Pragnell experience.
Cushion-cut diamonds are defined by their rounded corners and 58 brilliant-style facets that resemble a pillow shape.
Whilst a cushion cut and a round cut may have the same carat weight, the larger size of the table on the cushion cut makes it look bigger.
For a cushion cut diamond, look for an ideal depth that's between 61 and 68 per cent for a balanced and beautiful appearance.
About Cushion Cut Engagement Rings
Identified by their rectangular or square shape with rounded corners, a cushion cut diamond tends to have a softer appearance that is full of unique charm. Originally a modification of the Old European Cut, cushion cut diamonds have evolved with time and span a range of variants. The diamond cutter works freely with the natural stone to draw out its individual characteristics and create a truly personal interpretation of beauty expressed through their skilful and artistic cutting styles. Hundreds of cushion cut diamonds are viewed before being hand selected by a member of the Pragnell family, to ensure our collection consists of diamonds with the perfect shape, quality and character. Our Cushion cut diamonds are exquisitely set into a range of handcrafted engagement ring styles from the classic solitaire, unique, vintage designs and complementary cluster surround diamond settings. All cushion cut engagement rings are beautifully finished in the precious metals of platinum and gold.
Engagement Listing Page