SORRY NO ITEMS WERE FOUND.
Please refine your search or try another search term.
Select a price range to suit your budget
SORRY NO ITEMS WERE FOUND.
Please refine the selected filters.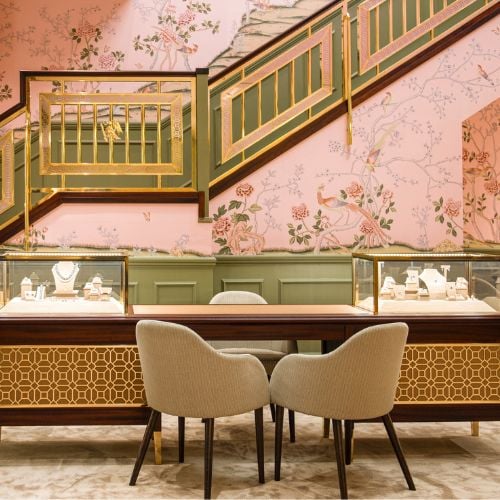 BOOK AN APPOINTMENT
Whether you book an appointment to visit us in person or opt for a virtual consultation from the comfort of your own home, you'll receive the same high standard of service and individual care and attention from our expertly trained consultants who can share designs, discuss gemstone options and even model pieces.
Frequently Asked Questions
Below are the answers to our most commonly asked questions. Should you want to find out more please feel free to Contact Us us and begin your Pragnell experience.
Due to the high-quality materials used in most stainless-steel watches, they do not rust under normal circumstances.
Stainless steel is one of the most durable metals. While not impervious to damage, it is very strong and resists abrasion well making it a great choice for high-end watches.
Stainless steel is one of the most durable, long-lasting metals out there. It is resistant to rust and corrosion, so if you take care of it, your stainless steel watch can last for decades.
Stainless steel watches are popular because of their durability, the versatility to be worn in many environments and their accessibility of price.
Stainless steel watches do scratch, though they are considerably more resistant to abrasion than precious metals. Making stainless steel the preferred material for sports watches and tool watches.
Some stainless steel watches have historically been a good investment, but a lot depends on the brand, model and condition of the watch when it comes to value. In addition, demand for the product and its rarity plays a part.
Stainless steel watches can be heavy but not so much that they are uncomfortable on the wrist. The heaviness of the watch will depend on the size and design. It is worth trying any stainless steel watch on before purchasing.
If your watch is waterproof, the easiest way to clean a stainless steel watch is with a soft cloth and some mild soap. Just make sure to rinse the soap off thoroughly, and then dry it with a soft cloth.
To keep your watch in top condition Pragnell recommend having your watch serviced every few years. Find out more about our
Watch Servicing
offer.
The durability of stainless steel has leas it to be the premier choice for sports watches and tool watches. But in more recent years, it has been adopted into casual and business wear, making them the most diversely worn of all timepieces.
About Stainless Steel Watches
Over the past 40 years, stainless steel watches have become increasingly desirable due to a combination of strong aesthetics, robustness, advancements in technology and cost-effectiveness. Steel watches, especially when they're paired with a full steel bracelet, are innately attractive. This has resulted in stainless steel models from all of the world's leading watchmakers becoming the standard look of the modern watch.

Before the 1970s, stainless steel did not enjoy the same favourable stance in the world of horology. It wasn't until the second half of the 20th century that the metal began to take hold. Before then, technology had not reached a point where working with stainless steel, particularly in making the precise components of a timepiece, was economically feasible. Watches tended to be crafted from gold and accompanied by leather straps. The 1970s brought about the first fully stainless steel models from some of the world's leading watch manufacturers, which introduced a look that appeared alien at the time. Today, the stainless steel case and bracelet combination has become the icon of the modern wristwatch for both men and women.

Aside from familiarity, the metal itself boasts various attributes that make it ideal for a timepiece. Stainless steel is so named due to its non-rust characteristics, a highly important feature. High-performing wristwatches are designed to be worn in a variety of weather conditions and are frequently exposed to the elements, making stainless steel the perfect material for cases and bracelets. Stainless steel is an incredibly strong metal and as new methods for shaping and milling the metal appeared, stainless steel has emerged as the perfect material for building strong, robust and high-performing timepieces.

The last and perhaps most obvious quality of stainless steel is its price. Steel watches tend to form the foundation of luxury watch brand collections, with prices climbing as the same model is offered in more premium materials. In many cases, stainless steel watches are considered introductory offerings.
Watch Listing Page