SORRY NO ITEMS WERE FOUND.
Please refine your search or try another search term.
Select a price range to suit your budget
SORRY NO ITEMS WERE FOUND.
Please refine the selected filters.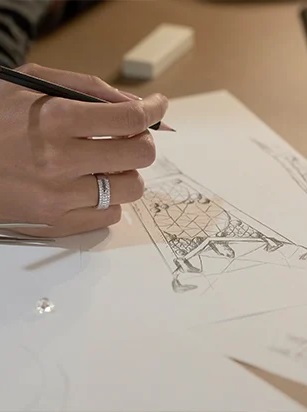 Discover Our Bespoke Service
Design and create a unique jewel, custom-made just for you. We'll bring your dream to life; the only limit is your imagination.
Frequently Asked Questions
Below are the answers to our most commonly asked questions. Should you want to find out more please feel free to Contact Us us and begin your Pragnell experience.
Pear-shaped diamonds or gemstones have an elongated teardrop shape and are a combination of a marquise and round brilliant cut. Pear-shaped diamonds are often referred to as 'teardrop' diamonds.
The most common way to wear a pear shape is to have the top pointing upwards to your fingertips, with the round bottom towards the hand. This gives it the upright figure of a falling teardrop or pear standing up.
The pear-shaped diamond has a similar faceting structure to round brilliant cut diamonds. Because of this, it retains that fire and brilliance that makes a diamond sparkle.
Ideally, you'll want to set your pear diamond in three prongs, two on either side and one at the tip. This placement will keep your pear-shaped diamond firmly in place.
Pear diamonds are timeless and eye-catching and have made a bit of a comeback in terms of popularity. Their stunning sparkle and flawless cut make the pear diamond the perfect choice in terms of longevity.
About Pear Cut Engagement Rings
Pear cut diamonds are celebrated for their elongated lines and striking brilliance. A unique combination produced when combining the iconic round brilliant cut with the elegant marquise. This unusual asymmetric pairing gives a beautifully feminine shape that tapers along the finger yet remains full of body and life. It is essential that pear cut diamonds are hand selected for their well-proportioned shoulders and wings to avoid a narrow or heavy appearance. Higher colour grading should also be considered when selecting pear shaped diamonds as a presence of colour can be concentrated at its tip. Whether set as a classic solitaire or framed in a refined halo design to further enhance its distinctive shape, pear shaped engagement rings are an excellent alternative to a classic cut that encapsulates the personality of a loved one. Our Pear shaped diamond engagement rings are exquisitely set, with a range of handcrafted styles available, from the classic solitaire, unique, vintage designs and complementary cluster surround diamond settings. All pear cut engagement rings are beautifully finished in the precious metals of platinum and gold.
Engagement Listing Page