Picking the Perfect Ring Size
An engagement ring should fit snugly on the finger, without being too tight so as to leave a mark. It must be, to borrow a phrase from Goldilocks, just right. If you do not know their ring size, don't panic: our guide offers tips on how to find out.
1. A perfectly sized ring should fit snugly on the finger, requiring just a little force to move past the knuckle. The last thing you want is for it to be too loose and risk falling off! However, it shouldn't be so tight as to feel uncomfortable or leave a mark.

2. Our fingers can change as much as half a size depending on our body temperature. It is best to measure in the evening when they are warmest and therefore at their largest.

3. If you are torn between two sizes or unsure, opt for the larger size. A proposal is always more exciting and romantic if you can slip the ring on their finger at that moment. Of course, it is best if they can wear it straight away, but having it slightly too large is better than being unable to fit it on their finger at all.

4. Don't panic about getting the size perfect the first time. We offer complimentary resizing on all our engagement rings. Use the information in this guide to reach the best estimate, safe in the knowledge that after you have popped the question, we will welcome you and your new fiancée back into the showroom for a glass of champagne, while we measure their finger to ensure it is just right.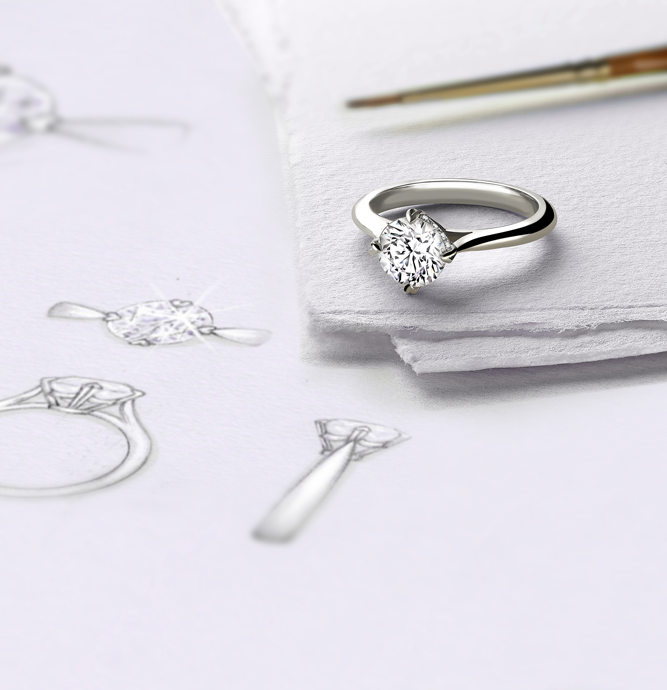 How to Measure in Secret
1. Borrow a ring from their jewellery box – one that they wear on the ring finger of their right hand – and bring it into one of our showrooms to have it measured by our expert staff.

2. If you think they will notice the ring missing, try it on your little finger and mark how far down it reaches – our staff will help you determine the closest ring size.

3. Place their ring on a piece of paper and carefully draw a circle around the inner circumference. Bring this into the showroom so that we can determine which size would suit best – or use the ring size chart below to estimate the closest fit.

4. Enlist the help of a friend or relative. Many people try on their friends' jewellery, so they may know if their own ring is too large or too small for your fiancée-to-be.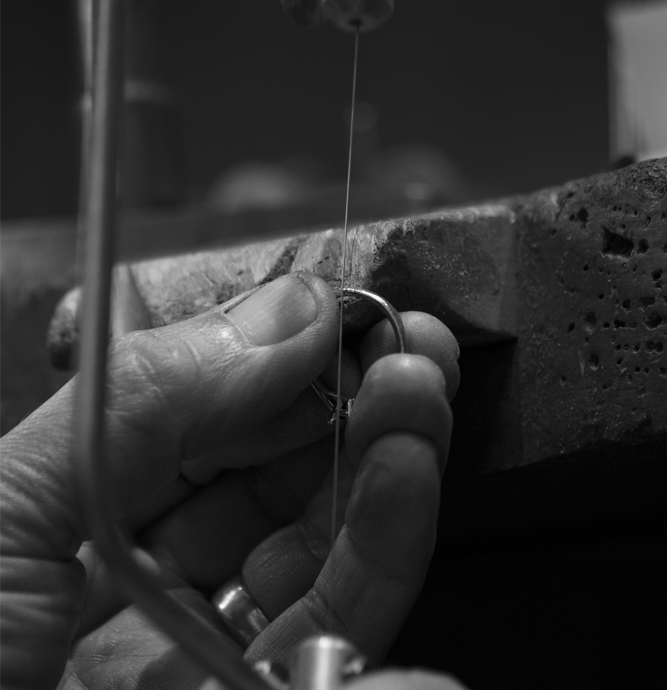 Ring Sizing
Pragnell's engagement rings are measured in UK sizes, denoted by a letter. The chart below shows the circumference in millimetres of each ring size, from A to Z.

Any Pragnell engagement ring can be crafted in any size for the perfect fit. If you are not sure of their size, we will make it in size 'N' and after you have popped the question, you can return to the showroom with your new fiancée to have it resized, for free.
| Inside Diameter | | Inside Circumference | | Sizes | | | | |
| --- | --- | --- | --- | --- | --- | --- | --- | --- |
| (in) | (mm) | (in) | (mm) | United States, Canada, Mexico | United Kingdom, Ireland, Australia, New Zealand | Italy, Spain, Netherlands, Switzerland | France | Germany |
| 0.586 | 14.88 | 1.84 | 46.8 | 4 | H | 6.75 | 46½ | 15 |
| 0.602 | 15.29 | 1.89 | 48.0 | 4½ | I | 8 | 47¾ | 15¼ |
| 0.618 | 15.7 | 1.94 | 49.3 | 5 | J½ | 9.25 | 49 | 15¾ |
| 0.634 | 16.1 | 1.99 | 50.6 | 5½ | K½ | 10 .5 | 50 ¼ | 16 |
| 0.65 | 16 .51 | 2.04 | 51 .9 | 6 | L½ | 11.75 | 52¼ | 16½ |
| 0.666 | 16.92 | 2.09 | 53.1 | 6½ | M½ | 13.25 | 54 | 17 |
| 0.682 | 17.32 | 2.14 | 54.4 | 7 | N½ | 14.5 | 55¼ | 17¼ |
| 0.698 | 17.73 | 2.19 | 55.7 | 7½ | O½ | 15.75 | 56½ | 17¾ |
| 0.714 | 18.14 | 2.24 | 57.0 | 8 | P½ | 17 | 57¾ | 18 |
| 0.73 | 18.54 | 2.29 | 58.3 | 8½ | Q½ | 18.25 | 58½ | 18½ |
| 0.746 | 18.95 | 2.34 | 59.5 | 9 | R½ | 19.5 | 59 | 19 |
| 0.762 | 19.35 | 2.39 | 60.8 | 9½ | S½ | 20.75 | 60¼ | 19½ |
| 0.778 | 19.76 | 2.44 | 62.1 | 10 | T½ | 22 | 61½ | 20 |
| 0.794 | 20.17 | 2.49 | 63.4 | 10½ | U½ | 23.25 | 62¾ | 20¼ |
| 0.81 | 20.57 | 2.54 | 64.6 | 11 | V½ | 24.75 | 64 | 20¾ |
| 0.826 | 20.98 | 2.59 | 65.9 | 11 ½ | wv½ | 26 | 65¼ | 21 |
| 0.842 | 21.39 | 2.65 | 67.2 | 12 | X½ | 27.25 | 67½ | 21¼ |
You May Be Interested In
Jewellery CLP Page