SORRY NO ITEMS WERE FOUND.
Please refine your search or try another search term.
Select a price range to suit your budget
SORRY NO ITEMS WERE FOUND.
Please refine the selected filters.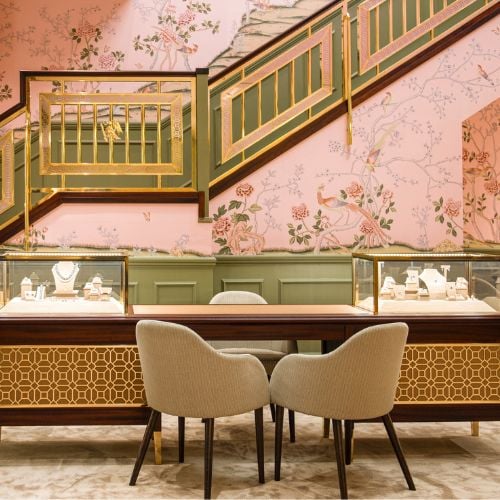 BOOK AN APPOINTMENT
Whether you book an appointment to visit us in person or opt for a virtual consultation from the comfort of your own home, you'll receive the same high standard of service and individual care and attention from our expertly trained consultants who can share designs, discuss gemstone options and even model pieces.
About Edwardian Jewellery
After decades of almost perpetual mourning, following the death of Prince Albert in 1861, the Edwardian era (1901-1910) began with the accession of King Edward VII. Married to Princess Alexandra of Denmark, the immensely popular King and Queen dazzled society with the latest fashions and extravagant jewellery.

As a sixth generation family jeweller, Pragnell are proud to continue our tradition of offering a carefully curated selection of interesting and unusual pieces of Edwardian jewellery from this exciting period.

Edwardian jewellery is characterised by elaborate platinum, diamond and gemstone creations that showcased wealth and status. Pearls, vibrant green jade, intoxicating opals and ember red rubies all played their part in the breathtaking creations from this decade of opulence. Choker necklaces were particularly fashionable, as Queen Alexandra regularly wore them to cover a small scar on her neck.

Pragnell offer an ever-changing selection of hand-selected pieces of fine antique Edwardian jewellery, including pendant necklaces and opal, diamond and ruby Edwardian rings, which display superb quality and design. These pieces are as wearable today as they were at the beginning of the last century.
Antique Listing Page