SORRY NO ITEMS WERE FOUND.
Please refine your search or try another search term.
Select a price range to suit your budget
SORRY NO ITEMS WERE FOUND.
Please refine the selected filters.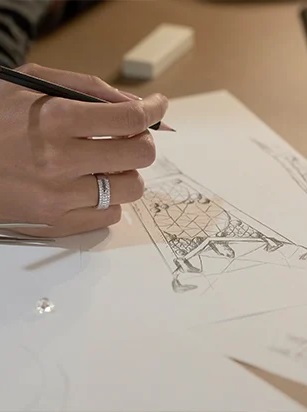 Discover Our Bespoke Service
Design and create a unique jewel, custom-made just for you. We'll bring your dream to life; the only limit is your imagination.
Frequently Asked Questions
Below are the answers to our most commonly asked questions. Should you want to find out more please feel free to Contact Us us and begin your Pragnell experience.
A princess-cut diamond ring is an engagement ring with a square diamond in the centre. Princess cut diamonds are square diamonds with pointed corners and brilliant faceting. These pointed corners separate them from radiant-cut diamonds, which have faceted corners.
Princess-cut diamonds do sparkle in their own right. Princess-cut diamonds are often compared to brilliant or round-cut diamonds which tend to sparkle the most.
A princess-cut diamond will appear larger than a round-cut diamond of the same carat size. This is because the princess shape has a larger table than round cut stones making them larger in appearance to the naked eye.
Princess diamonds can be cut to maximise carat weight or light performance. If they're cut to maximise carats, then they will have flatter tops and larger tables. If they're cut to maximize light performance, then the material is sacrificed to produce a higher crown height and a smaller table
About Princess Cut Engagement Rings
Cut to retain the light within the diamond and maximise its fire, life and brilliance, it is no wonder the princess cut has always been a popular choice of diamond to centre an engagement ring. Princess cut diamonds appear larger than other shapes as they were created to optimise a diamond's rough crystal form. A diamond's uncut octahedral structure lends itself perfectly to the clean angles and geometric shape of the princess, whilst its light performance is akin to a modern round brilliant. For those looking for something a little different to a round diamond, but want to maximise sparkle from every angle, a princess cut diamond offers the ideal alternative. Our princess cut diamonds are exquisitely set into a range of handcrafted engagement ring styles from the classic solitaire, unique, vintage designs and complementary cluster surround diamond settings. All princess cut engagement rings are beautifully finished in the precious metals of platinum and gold.
Engagement Listing Page