Pragnell Showroom, Mayfair
14 & 16 Mount Street, Mayfair, London
Our Home in the heart of London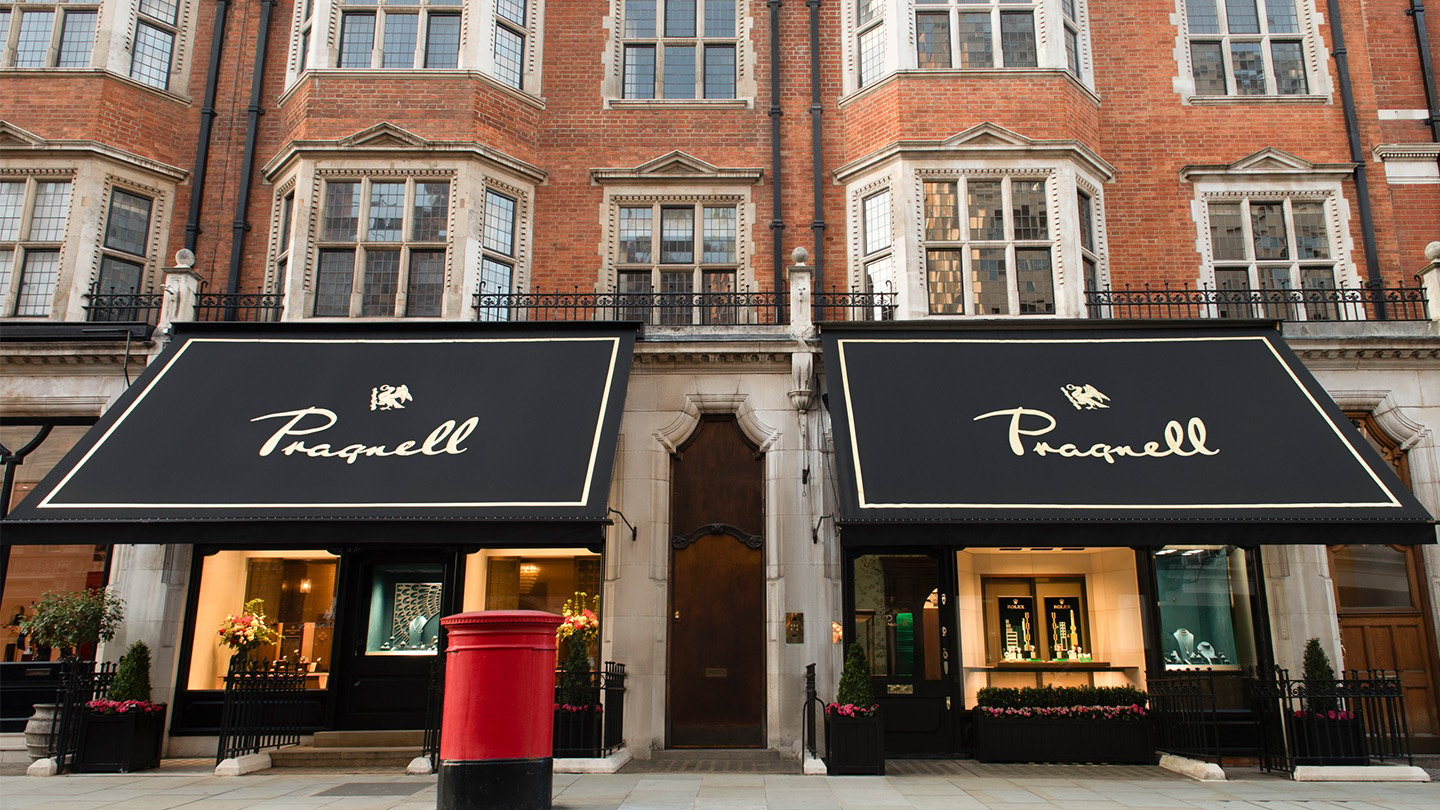 On 20th November 1947, Her Majesty the Queen married Prince Philip at Westminster Abbey in a magnificent affair. Dressed in a gown designed by Sir Norman Hartnell, she wore a diamond engagement ring and diamond bracelet designed by Philip Antrobus of Bond Street, a company owned by Pragnell.
With some serendipity, exactly seventy years and one day later (the day after Her Majesty and Prince Philip's platinum wedding anniversary), on 21st November 2017, we marked our family's long and varied history in London's jewellery trade with the opening of our new Pragnell showroom at 14 Mount Street, Mayfair.

We are immensely proud of our rich and diverse heritage within the British jewellery trade. The opening of our Mayfair showroom is the culmination of our family ties to London since the early 1800s through 'Philip Antrobus' Est. 1815 and 'Waters and Blott' Est. 1850.

Please do visit us and you can, of course, be sure of a warm welcome.
14 & 16 Mount Street
Mayfair, London
W1K 2RF
CHRISTMAS OPENING HOURS
Monday – Wednesday: 10:00am – 6:00pm
Thursday: 10:00am – 8:00pm
Friday – Saturday: 10:00am – 6:00pm
Sunday 10th/17th/24th December: 11.00am – 4:00pm  

Christmas Day: Closed
Boxing Day: Closed
Wednesday 27th December: Closed
Thursday 28th December: 10:00am – 6:00pm
Friday 29th December: 10:00am – 6:00pm
Saturday 30th December: 10:00am – 6:00pm
Sunday 31st December: Closed
New Year's Day: Closed
Tuesday 2nd January: 10:00am – 6:00pm

+44 (0) 20 7409 2845
Services
Antique and Fine Jewellery
Swiss Made Watches
Ring Resizing
Servicing for Watches & Clocks
Bespoke Jewellery
Redesigning Jewellery
Jewellery & Silver Restoration

Customer Feedback
"A refreshing experience . Try the rest than come to the best - they are very warm and welcoming and meet your expections as best as they can .Oliver is a great asset to the company and helpful with out the pressure of making you buy something you do not need but what will suit your life style and needs."
Dean Shami
"I've been looked after by Emma and extremely happy about the quality of service. Super resourceful, always very nice and constructive. Overall a great experience in both timepieces and jewelry."
Sem H
"I bought my Longines from Pragnell and I have to say that they are very professional.Oliver was very helpful and very knowledgeable too.Highly recommend this place. I hope to be able to do business with Pragnell again."
Salih Genchev
"Honestly, I never usually write reviews. But I simply had to for Pragnell's, after searching just about every Rolex store or stockists while travelling through Italy, France and the UK I'd just about given up hope - most staff were incredibly rude or dismissive. Sam from their Mayfair store was a welcomed departure from this attitude. He was attentive, helpful and more than hospitable. He held the watch I was after for 2 days, not only was it the model I loved I'd searched just over 15 stores for, but it was a far better service than I could've imagined. Buying a rolex is an investment and I really appreciated that Sam also made it a lovely experience. He was so helpful we bought 2, we were there for about an hour as he spoke us through the watches, adjusting them to be the right fit and talking us through how to care for them. Honestly, my best retail experience ever. Pragnell's have great products, but as I've learnt so do most stores - what sets them apart is the service. Pragnell's you're very lucky to have the amazing team members you do, they're on par with your beautiful collection of products."
Maddison S-T
"Lovely store, very friendly and helpful staff who went out there way to find my perfect watch. Highly recommended, I will definitely be returning."
Cailean Murphy
"Fantastic experience here at Pragnell. Having abnormally small wrists I really struggled to find a Jeweller that would take permanent links out of my watch and for it not to take 3 weeks.. not only did Pragnell get it done but it only took them a couple days! Great service and brilliant staff."
Sam Mansour
"Beautiful store, excellent service and friendly and knowledgeable staff."
Alex Locatelli
"Highly recommend Sam and the whole team at Pragnell, all were very friendly and welcoming and managed to pull off a miracle find for the watch I wanted to purchase - stop by for a visit and you won't be disappointed."
Bryn Sadler
"A company that sets itself apart... I had an absolutely incredible customer experience with Pragnell on Mount Street! The boutique is beautiful and staff were very welcoming and extremely competent with regards to both fine jewellery and watches. In particular, I had the pleasure of dealing with Emma, who has been nothing but fantastic! I cannot thank her enough for the great customer service. For me there is no other option than Pragnell when it comes to jewellery/watches."
Philipp S
"Felt special and just enjoyed the experience at the Stratford upon Avon branch. Character building with displays of each luxury watch brand in cabinets. Served by Andrew and David with so much care and attention. Thank you so much for a day to remember. I enjoyed buying my Omega Moonwatch. Every watch lover has to have one!"
Stephen Dimmick
"I have been to a number of jewllers over the years but I am happy to say this is one of my favourites. It still amazes me how easy some people find it to provide outstanding customer service. And I'm glad to say that is what Oliver at Pragnells does. He went out of his way at every chance he could to make buying my first Rolex the best experience he could. Having been to a number or Pragnells competitors, I could not believe the contrast. Never too pushy, but whether your spending a penny or a pound, Oliver was there to spend time and make sure I felt welcome. Being a family owned business, there felt a happiness in the air. Strongly recommend this place over others and especially Oliver! Keep up the good work guys."
Geethan Perin
"This place and its staff deserve nothing less than 5 stars! I was having so much trouble finding a wedding band that would fit around my engagement ring until I came to pragnell. Emma was absolutely outstanding, she is very knowledgeable about the possible options of what could be done so I could get the perfect fitting rings. My partner and I are beyond happy with the result and absolutely love our rings. Massive thank you to Emma who really was amazing!"
Beth Gilbert-Squires
"Gabrielle and Oliver from Mount Street in London (the Mayfair shop) have been nothing but wonderful. Amazing customer service. Thank you."
Daniela
"Fantastic service. Professional and courteous staff. Very good experience."
Simon
"Del Knight was amazing he gave me outstanding service it was an absolute pleasure meeting him."
Random Fanatic
"Served by Sam who managed to get a specific model for me in significantly less time than expected. All of the staff were friendly, inviting and did not judge customers based on initial impressions."
Will Bradbury
"Fantastic service received from Robert Webb at Pragnell. Lovely boutique jeweller on Mount Street. Robert me feel at ease from the moment I entered, and discussed in depth my requirements. On departure it was raining heavily and Robert saved the day by offering a complimentary umbrella. Highly recommended!"
A Patel
"I came in to speak with Sam in regards to a specific Patek Philippe. He was very welcoming and even showed me around their lovely boutique. Will definitely be re-visiting in the future."
jburns568
"Very helpful when visiting. Nice store, great choice of items."
Grace Tyminski
Our Other Showrooms
From Market Street to Mayfair you can be sure of a warm welcome at any of our showrooms across Great Britain.
Generic CLP Page