SORRY NO ITEMS WERE FOUND.
Please refine your search or try another search term.
Select a price range to suit your budget
SORRY NO ITEMS WERE FOUND.
Please refine the selected filters.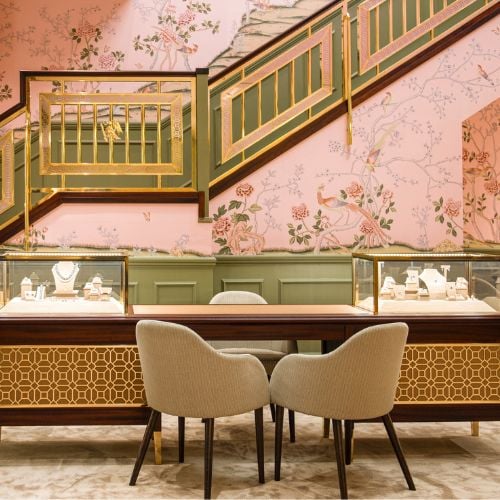 BOOK AN APPOINTMENT
Whether you book an appointment to visit us in person or opt for a virtual consultation from the comfort of your own home, you'll receive the same high standard of service and individual care and attention from our expertly trained consultants who can share designs, discuss gemstone options and even model pieces.
Frequently Asked Questions
Below are the answers to our most commonly asked questions. Should you want to find out more please feel free to Contact Us us and begin your Pragnell experience.
Yellow gold is a precious and noble metal that is prized for its ability to resist tarnishing. This is why the coveted alloy is the natural choice for creating yellow-gold watches. Historically, yellow gold watches have been a good investment over a long period of time. Gold is one of the most desired and rarest metals on earth.
Luxury yellow gold watches are typically created in 18ct, meaning they have 750 parts per 1000 of gold and the remainder made up of other alloys for stability. As yellow gold is a dense material, and three-quarters of the timepiece is usually made up of the material, it gives yellow gold watches an assuring heft on the wrist.
One of the best ways to clean a yellow gold watch is with a jewellery polishing cloth. These cloths are specially designed for use on all kinds of precious metals, and they are great for getting rid of any kind of tarnish or discolouration.
You can also have yellow gold watches refurbished as part of a service, to keep your watch in top condition Pragnell recommend having your watch serviced every few years. Find out more about our
Watch Servicing
offer.
It is worth noting that a yellow-gold watch should be professionally polished sparingly, as each refurbishment removes a small layer of yellow gold from the watch.
Yes, yellow gold watches are susceptible to tarnishing in the same way as jewellery. However, if you take proper care of your timepiece, you can avoid the effects of tarnish and keep it looking amazing for years to come.
Gold watches are made of solid gold, and gold-plated watches have a thin layer of real gold over a base metal, typically measured in microns.

A solid yellow gold watch is generally more expensive than a gold-plated watch, but there are some other key differences. A yellow gold watch will be heavier than a comparable gold-plated watch because gold has more heft than the base metal. A yellow gold watch is also more durable against abrasions, so it will stay looking great for longer than a gold-plated watch.
Yellow gold watches are suitable for every dress watch occasion where you want to make a bold statement. They are an elegant and luxurious choice that will add a touch of class and sophistication to any outfit.
A two-tone gold watch generally refers to a gold watch with more than one tone of precious metal running through it. For example, interchanging links of yellow and white gold. These gold watches are almost always made of the same purity of gold.

The term two-tone gold is often mistakenly used in place of bi-metal watches, which refer to an amalgamation of precious metals with stainless steel.
About Yellow Gold Watches
Most commonly used to craft the case of a timepiece, yellow gold was by far the most popular material used until the beginning of the 12th century. Today, owning a yellow gold timepiece is a true symbol of success, used by many luxury watch brands across their collections.

Yellow gold is naturally brighter than other gold colours such as white or rose, meaning yellow gold watches stand out from the crowd and are sure to be noticed. The difference between yellow gold, white gold, and rose gold is the metal used to create the alloy. White gold is commonly alloyed with zinc, nickel, or palladium, giving it a silky, silver-like finish, while yellow gold is a combination of gold and copper. Nickel and palladium have a bleaching effect on gold, so more of them can be added to balance out the reddening effect of copper or lessened for a rose gold finish.

Owing to its natural softness, 24ct or pure gold is alloyed with other base metals to change its hardness, durability as well as appearance. Gold with lower carat ratings, such as 14ct or 9ct, includes higher ratios of base metals such as silver, palladium, nickel or zinc in their alloy. The higher the carat gold means that the higher the gold content is however this also means the less robust the metal. As a result, the world's leading watchmakers tend to use 18ct yellow gold to craft cases and bracelets, the perfect blend of durability and value.
Watch Listing Page