Pragnell Showroom, Leicester
22 - 24 Market Street
Our home in the historic market town of Leicester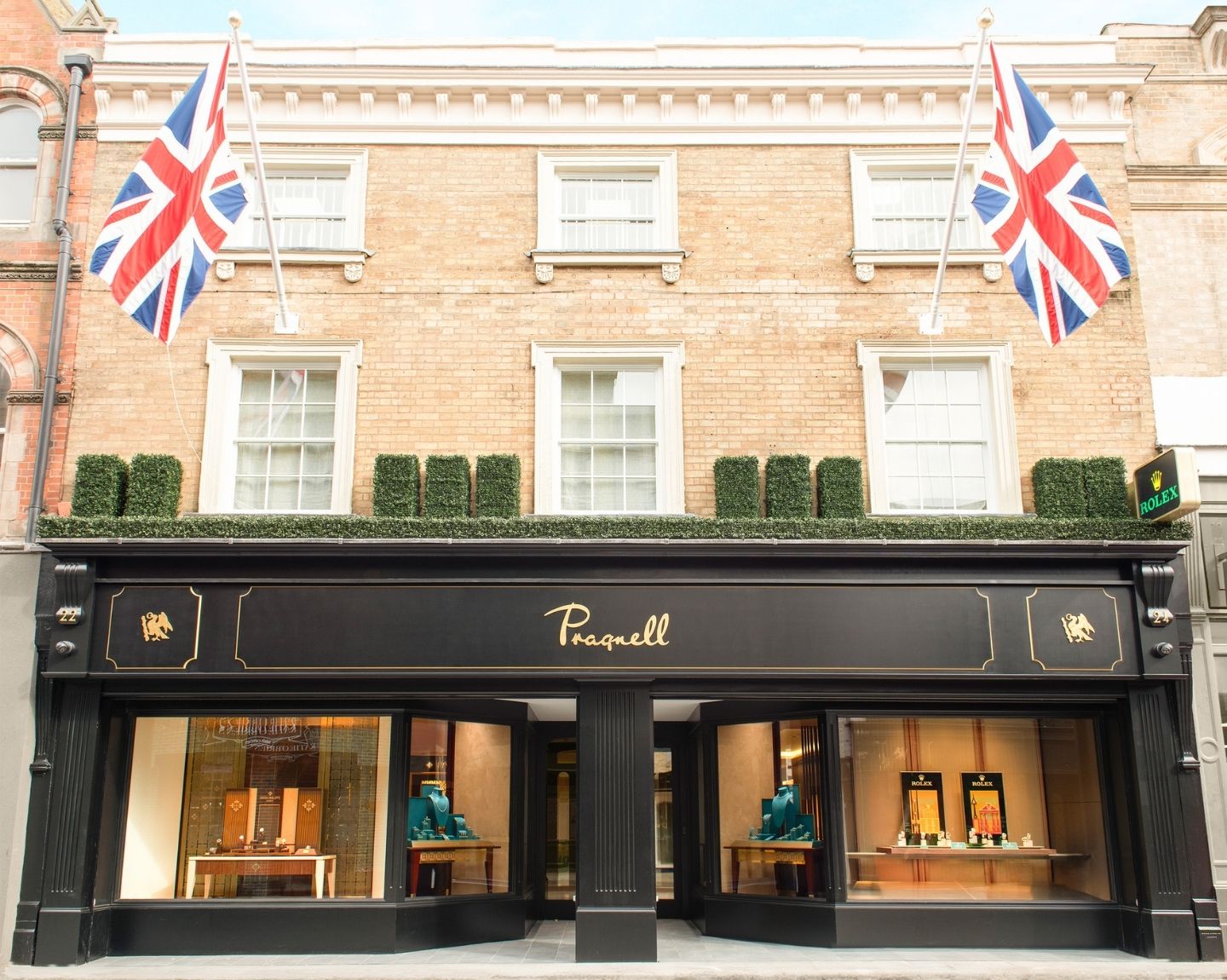 In September 2023, our new Leicester showroom opened on Market Street, directly opposite the site where our family owned and run business has operated for over 110 years.
Our new home has more than double the floorspace, allowing us to generously showcase our exclusive jewellery collections, along with new, dedicated Rolex and Patek Philippe boutique areas, as well as expanded workshop spaces for our goldsmiths and watchmakers.

The design of the new showroom follows the relaxed townhouse aesthetic we perfected in our recent Mayfair showroom extension. With beautiful hand-painted De Gournay wallpaper and a glorious brass staircase, a visit to our new Leicester showroom is an experience in itself. Take a peek into the heart of Pragnell's craft and view our master craftsmen at work.

As in our Stratford-upon-Avon and Mayfair locations, we have continued to invest in the jewellery offering, and the expertise. Amongst other accolades, Leicester is proud to be home of the Pragnell watch workshop. We are proud to have been awarded 'certified status' from Rolex and Omega and are able to service watches in-house. During both accreditation reviews, our workshop was marked as industry leading, helping define new standards for partner servicing.

Please do visit us and you can, of course, be sure of a warm welcome.
22 - 24 Market Street
Leicester
LE1 6DP
CHRISTMAS OPENING HOURS
Monday – Saturday: 9:30am – 5.30pm
Sunday 10th/17th/24th December: 11.00am – 4:00pm  

Christmas Day: Closed
Boxing Day: Closed
Wednesday 27th December: Closed
Thursday 28th December: 9:30am – 5.30pm
Friday 29th December: 9:30am – 5.30pm
Saturday 30th December: 9:30am – 5.30pm
Sunday 31st December: Closed
New Year's Day: Closed
Tuesday 2nd January: 9:30am – 5.30pm

+44 (0) 116 255 4434
Services
Antique and Fine Jewellery
Swiss Made Watches
Ring Resizing
Servicing for Watches & Clocks
Bespoke Jewellery
Redesigning Jewellery
Jewellery & Silver Restoration

Customer Feedback
"These jewelers have the most beautiful pieces of jewellery I have ever seen. They have it all from rings to necklaces and pendants, bracelets and diamond earrings. I would highly recommend this jewelers for engagement rings or for someone you love."
Oliver Kang
"Was extremely happy with the service I got from Marcus it was 2nd to none lots of knowledge and a great guy if you pop in to Pragnell ask for him you will not regret it. Regards, JnC."
Christopher Mills
"Great experience and very informative. Want to say thank you to Russell, Marcus and the rest of the team for making my purchase very special. Will be returning for my future purchases and will recommend to my family and friends!"
Mandave Rakhrao
"Excellent service from floor Manager Nicola in the Leicester store, nothing was too much trouble. Extremely pleased with our purchases and the help and guidance given. Nicola is wonderful at her job, 2 very satisfied customers. So much so we are back for more purchases, all staff are extremely helpful. Nicola is an asset to the business."
Beverley Bethell
"Excellent Service & great Information provided regarding our purchase. Made my wife's birthday extra special. Would like to mention Russell Minns who provided exceptional service. Thank you very much."
Dipesh Morjaria
"Absolutely fantastic service. We were shopping for an engagement ring and after visiting multiple well known jewelleries, Pragnell's offered the best costumer service and best price. Adrian is incredibly knowledgable and his passion for his work is very clear. I thoroughly enjoyed my trip and would not hesitate to say that if I am ever in the market for luxury, premium jewellery, Pragnell's is the first place I'd look."
Usaamah Latif
"Top jeweller in the United Kingdom!"
Derek Nykamp
"Very Friendly, efficient and knowledgeable company who share a passion for watches like I do. Been dealing with David Barker who is very professional, polite and helpful. I wouldn't go anywhere else for my future watch and jewellery needs."
Bobby Rees
"I have just purchased a lovely Omega Seamaster from Pragnell in Leicester. David, who I had a pleasure to deal with, was excellent throughout the whole purchasing process. I left a deposit, then I paid the whole balance within 2 days. The watch was on my wrist in under 24 hours after I paid for the watch in full. Efficient, pain-free and professional. Thank you!"
D Sz
"A massive thank you to the staff at Pragnells Leicester. Communication was fantastic, and Adrian had all the time in the world to answer all my questions. Not only did they help me get the watch i wanted but I've learnt a lot too!"
Ollie Dinnage
"Outstanding service and a big thank you especially to Adrian who dealt with all our enquiries and sorted out our accommodation also Marcus all great professional personal customer service. Thoroughly enjoyed our visit delighted with the watch and thank you for the recommendation to "The Case restaurant" was a great part of our trip."
Graeme McQueen
"Absolutely brilliant i would recommend Tarrats without reservation - service and integrity beyond the call of duty."
Luke Harris
"Excellent customer service. Very friendly & lovely staff. Highly recommended."
Neeta Patel
"Went to purchase a watch today with my husband and children. Adrian and Natalie were fantastic with my daughter. They were both so welcoming. The customer service was second to none. We will definitely be purchasing more watches from there in the future. Adrian has been in constant communication with my husband for a while now helping him to decide on what works best for him prior to making this purchase. His expertise and friendly demeanour has made the entire experience fantastic. Would definitely recommend to anyone wanting to purchase a watch!"
Ashika Daud
"Unbelievable experience. Sangita is one of the most focused and caring individuals I have ever had the pleasure of dealing with. I would recommend Tarrats to all. As some typical high-end businesses treat you on what you wear. This company is neutral. I will be buying from these for life, so much so, I am just negotiating my second purchase already and I intend on buying my partners Rolex for Christmas from here as well as my wedding rings and anything jewelry related. All in all service is swift and blunt. I know I'm hard to deal with in business and they understand my requirements without having to keep asking over and over."
Joe Watts
Our Other Showrooms
From Market Street to Mayfair you can be sure of a warm welcome at any of our showrooms across Great Britain.
Generic CLP Page