SORRY NO ITEMS WERE FOUND.
Please refine your search or try another search term.
Select a price range to suit your budget
SORRY NO ITEMS WERE FOUND.
Please refine the selected filters.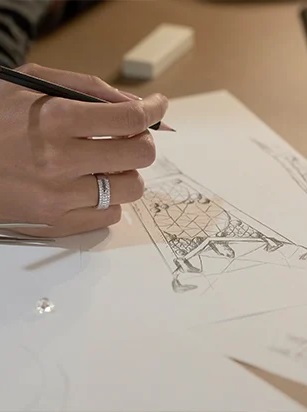 Discover Our Bespoke Service
Design and create a unique jewel, custom-made just for you. We'll bring your dream to life; the only limit is your imagination.
Frequently Asked Questions
Below are the answers to our most commonly asked questions. Should you want to find out more please feel free to Contact Us us and begin your Pragnell experience.
Antique rings are those made more than 100 years ago, whereas vintage pieces are any that are not modern, but not old enough to qualify as antique. Both, however, are notable for their striking and elaborate designs.
With all other factors being equal, vintage and antique jewellery by their nature hold more value than brand-new jewellery.
About Vintage Engagement Rings
Today engagement rings are the ultimate symbol of commitment, and are constantly worn with pride and joy across the globe. With a history dating back over five hundred years the engagement ring has been reinterpreted in many different styles.

As a sixth generation family jeweller Pragnell are proud to offer a diverse selection of vintage engagement rings that have been hand selected to showcase the very best elements of design and craftsmanship. The 19th and 20th centuries proved particularly important for jewellery design with many of the iconic vintage diamond and solitaire engagement styles known today first being seen. Our ever changing selection features classic Victorian and Edwardian examples that catch the eye with superb old cut diamonds, vibrant sapphires and coloured gemstones.

The later Art Deco period embraced the wonder of platinum and produced intricate diamond set engagement designs that are hugely sought after today. With a selection that changes on a weekly basis, Pragnell offer complete peace of mind as all our vintage engagement rings have been fully assessed by our jeweller to ensure that they are ready for their next adventure.
Engagement Listing Page