View By Collection
Choose a timepiece to find out more about its design and see different configurations.
The Watch Edit
A curated selection of our favourite timepieces from Breitling.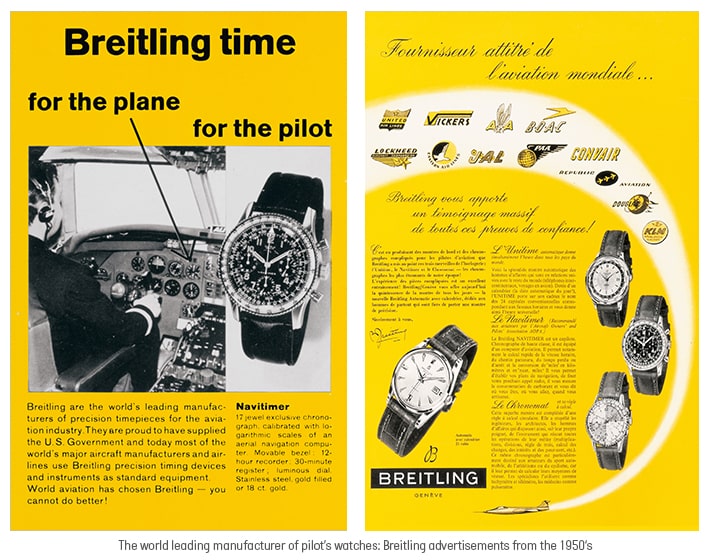 An Obsession with Quality
Leon Breitling started his company in Saint-Imier in 1884. He specialised in both timepieces and measuring equipment, finding his niche in the manufacture of chronographs. These hand-held timing devices were in great demand by the military, scientific researchers and athletic associations.

Gaston Breitling took over after his father's death in 1914. Under his stewardship, the company produced the first chronograph with two push pieces, allowing for the measurement of multiple times in sequence. In 1952, they launched the Breitling Navitimer, a combination of the words navigation and timer, a timepiece designed with a flight-specific slide rule. This legendary timepiece was an instant hit with pilots and has been an icon of aviation ever since. In the late 70s, struggling with his health, and his sons too young to take over, Willy Breitling sold his assets and his familiar brand names to a visionary entrepreneur Ernest Schneider. Schneider continued to grow Breitling's legacy, and develop Breitling watches over the next four decades.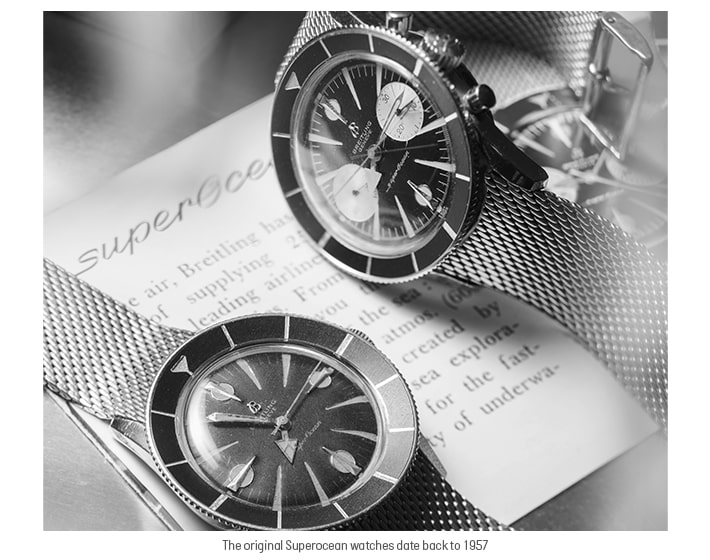 Defining the Classic Diving Watch
In the 1950's, having conquered the skies, Breitling turned their attentions to the Oceans. The growing fields of professional deep-sea diving and Marine exploration, as well as the publics interest in aquatic sports and leisure activities, increased the demand for reliable timekeeping instruments that could accompany them on their underwater adventures.

In 1957, Breitling unveiled two exceptional diving watches, a time only diver and a chronograph both named Superocean. Drawing from their experience in making incredibly legible aviation instruments, the Superocean boasts maximum readability underwater along with a trailblazing design. To survive the rigorous challenges of the ocean, both are 200m water resistant.

The Breitling Superocean continued to evolve over the next six decades into a number of robust and reliable performance watches. Breitling now devotes two families to this evolution: the modern Superocean, and the vintage-inspired Superocean Heritage.
Visit Pragnell
From Market Street to Mayfair you can be sure of a warm welcome at any of our showrooms across Great Britain.