SORRY NO ITEMS WERE FOUND.
Please refine your search or try another search term.
Select a price range to suit your budget
SORRY NO ITEMS WERE FOUND.
Please refine the selected filters.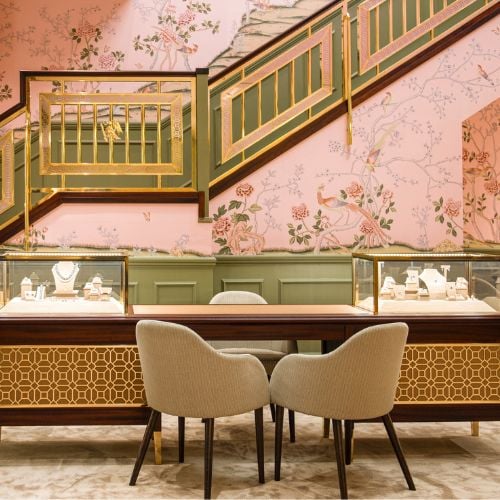 BOOK AN APPOINTMENT
Whether you book an appointment to visit us in person or opt for a virtual consultation from the comfort of your own home, you'll receive the same high standard of service and individual care and attention from our expertly trained consultants who can share designs, discuss gemstone options and even model pieces.
About Breitling Avenger Watches
The Breitling Avenger collection was born to fulfil the call from diving enthusiasts across the globe. With robust, rugged case constructions, twinned with strong aesthetics, the Breitling Avenger is unmistakably 'Breitling'. Designed to accompany the diver down to depths of 300 meters, the Avenger comes equipped with crowns and push pieces that are prepared to protect the internal environment of the watch from intensive use. Each individual watch is finished with such high-end aesthetical appeal, that its strength is simply disguised by a beautiful outer profile.

Breitling Avenger watches also facilitate some of the brand's most forward-thinking, cutting-edge features such as the non-slip grip on their screw-locked crowns, together with chronograph push-pieces, which ensure optimal handling when wearing heavy diving gear. The dials of the Breitling Avenger collection are minimalist and avoid over-fussy complications to provide the wearer with clarity whilst secured to the wrist during the most challenging of conditions.

More recently. Breitling have refined the Avenger to become even more functional, technical and stylish. A slimmer, ultra-ergonomic case provides sophistication for the wearer, whilst satin-brushed bezels with integrated rider tabs add to an ever-growing list of tempting features. Breitling Avenger watches live up to their name, with bold masculine dimensions that demand attention and legible dials that evoke a purposeful presence. Each timepiece comes equipped with a chronometer-certified movement that is all manufactured in Breitling workshops. The only watch brand in the world to have achieved this. The founder of the modern chronograph. Breitling continues to preserve the aeronautical legacy of which its own history has been woven into.
Watch Listing Page