SORRY NO ITEMS WERE FOUND.
Please refine your search or try another search term.
Select a price range to suit your budget
SORRY NO ITEMS WERE FOUND.
Please refine the selected filters.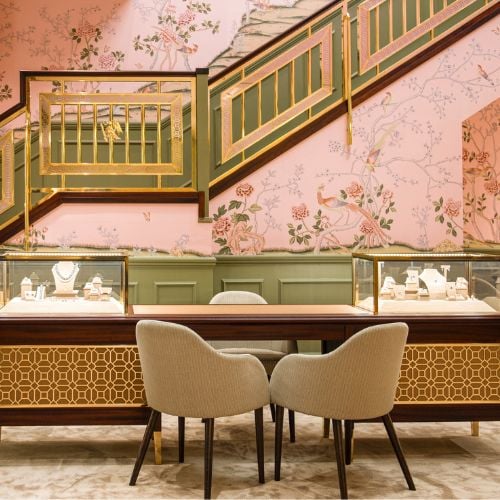 BOOK AN APPOINTMENT
Whether you book an appointment to visit us in person or opt for a virtual consultation from the comfort of your own home, you'll receive the same high standard of service and individual care and attention from our expertly trained consultants who can share designs, discuss gemstone options and even model pieces.
About Breitling Professional Watches
Breitling Professional watches are bold, technologically advanced timepieces that were originally developed for experts within the aviation industry. Today, they have evolved into true status symbols due to their powerful, iconic and adventurous designs. With the combination of robust case constructions and meticulous Swiss-made movements, the watches designed for specialist use, are absolutes in instrumentation. The perfect partner for any adventurer, a professional watch from Breitling provides the wearer with innovative technology, high precision and strong aesthetics.

The Breitling Professional range is built for intense challenges and continuously breaks new ground in the modern watchmaking world. Ever since it created the reliable onboard clocks that were favoured by global air forces in the late 1930s, building instruments for professionals has always been at the heart of the Breitling brand. In 1985 Breitling introduced the Aerospace, which was equipped with the latest generation of Swiss technology such as analogue and digital displays and two LCD screens.

The iconic Emergency then followed; the high-tech timepiece that would become the lifesaving device for adventurers and pilots across the globe. So successful did it become, that the wristwatch was used by some of the world's most famous jet teams, such as the Frecce Tricolori, the Patrouille Suisse and the Blue Angels.

Breitling's most recent Professional creation, the Endurance Pro, features an ultra-light Breitlight case, a robust material 3.3 times lighter than titanium and 5.8 times lighter than stainless steel. Non-magnetic, thermally stable and hypoallergenic, Breitlight is highly resistant to scratches, traction and corrosion. Designed for the sports enthusiast, the Breitling Endurance Pro takes inspiration from the Breitling designs of the 1970s paying homage to the brand's rich heritage of 'athleisure' watches.
Watch Listing Page