SORRY NO ITEMS WERE FOUND.
Please refine your search or try another search term.
Select a price range to suit your budget
SORRY NO ITEMS WERE FOUND.
Please refine the selected filters.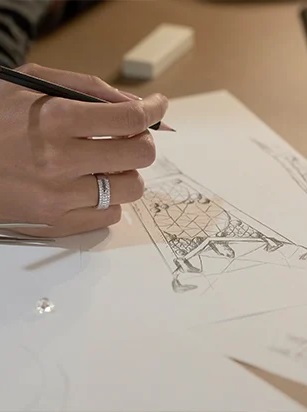 Discover Our Bespoke Service
Design and create a unique jewel, custom-made just for you. We'll bring your dream to life; the only limit is your imagination.
Frequently Asked Questions
Below are the answers to our most commonly asked questions. Should you want to find out more please feel free to Contact Us us and begin your Pragnell experience.
The engagement ring stands for the promise of marriage and symbolizes love and commitment to a partner. Traditionally, engagement rings feature a gemstone such as a diamond.
There is no rule on how much you should spend on an engagement ring. We would recommend spending what you can on a ring that will be adored forever by your partner.
For the closest fit, look for a ring they wear on the ring finger of their right hand, or the middle finger of their left hand. If you can, use a ring sizer tool or a ruler to measure the diameter of the ring. Complimentary resizing is provided by Pragnell on all engagement rings so you can rest assured that your partner will have a ring that will fit them perfectly.
For more help on finding the right size ring visit our
Ring Size Guide
.
We recommend that you purchase the engagement ring at least three months before you are planning to propose, this then gives you enough time to plan everything so it runs smoothly.
The main difference between an engagement ring and a wedding ring is that the former is given during the proposal and the latter during the marriage ceremony. From there, both rings serve the same purpose - they symbolize the couple's love and commitment to each other.
The 4Cs relate to cut, colour, clarity and carat weight, a universal language that was established by the Gemological Institute of America (GIA). There are varying scales of diamond quality and Pragnell use this to determine the quality of a diamond.
Find out more about the 4Cs in our
Diamond Guide
.
No, an engagement ring can incorporate any gemstone, no gemstone at all and be made from a variety of materials. It's entirely up to you.
Engagement Rings
At Pragnell, we have a vast selection of engagement rings from which to choose. Whether you are looking for gold engagement rings, platinum engagement rings or even a bespoke mixed metal or coloured gemstone ring, our showroom consultants can help you find your perfect match. Visit a showroom or book an appointment for more information.
Engagement Listing Page