SORRY NO ITEMS WERE FOUND.
Please refine your search or try another search term.
Select a price range to suit your budget
SORRY NO ITEMS WERE FOUND.
Please refine the selected filters.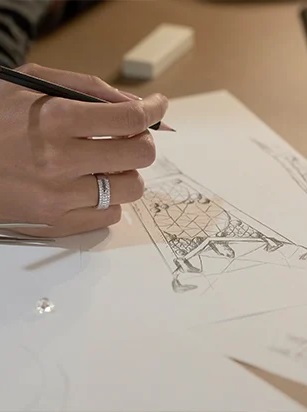 Handcrafted
Discover Our Bespoke Service
Design and create a unique jewel, custom-made just for you. We'll bring your dream to life; the only limit is your imagination.
Frequently Asked Questions
Below are the answers to our most commonly asked questions. Should you want to find out more please feel free to Contact Us us and begin your Pragnell experience.
Rubies are a very popular choice for engagement rings and are only second in popularity to diamond engagement rings.
Rubies are tough gemstones and are unlikely to chip with everyday wear.
Rubies do sparkle but differently than diamonds. A ruby engagement ring will sparkle with a subtle red and orange effect rather than a white sparkle that comes from a diamond.
Rubies are strong enough to handle everyday wear and tear and are one of the hardest gemstones available.
Ruby engagement rings are easy to clean with warm, soapy water. Use gentle degreasing soap, such as mild dish soap, to remove residue on the ring, and gently scrub the ring with a soft bristle brush such as an old toothbrush.
You should remove your ruby engagement ring to bathe or wash your hands. Store it in a safe place so it does not slip down the drain. Avoid wearing fine jewellery when you are doing housework, gardening or participating in a sport.
The most popular cuts for ruby engagement rings are oval or round stones in a halo setting.
About Ruby Engagement Rings
Celebrate your love and devotion with a ruby engagement ring.

Favoured in the early Victorian period, ruby engagement rings are incredibly decorative and feminine to reflect a time of marital bliss between Queen Victoria and Prince Albert.

For those looking to introduce colour to their engagement ring, a ruby's warmth and richness is as mesmerising as it is beautiful. Popular styles include vintage cluster and trilogy designs as rubies are often paired with diamonds to draw out the gemstones depth of colour.
Engagement Listing Page