SORRY NO ITEMS WERE FOUND.
Please refine your search or try another search term.
Select a price range to suit your budget
SORRY NO ITEMS WERE FOUND.
Please refine the selected filters.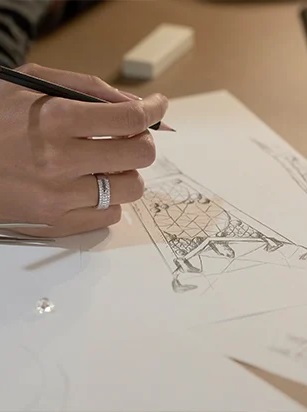 Handcrafted
Discover Our Bespoke Service
Design and create a unique jewel, custom-made just for you. We'll bring your dream to life; the only limit is your imagination.
Frequently Asked Questions
Below are the answers to our most commonly asked questions. Should you want to find out more please feel free to Contact Us us and begin your Pragnell experience.
Emeralds are an excellent choice for an engagement ring as it is a gemstone that looks stunning in a variety of settings and designs. Emeralds are also extremely versatile and can look great in a traditional or modern engagement ring.
Emeralds are relatively hardwearing gemstones, but they can be chipped if proper care is not taken.
Emeralds do sparkle but differently to diamonds do and you will see an intense variation of colours on the stone as light shines through it.
Emeralds are relatively hardwearing meaning they are suitable for everyday wear; however, you should remove your emerald engagement ring before doing any strenuous activity or bathing.
Emerald engagement rings are easy to clean with warm, soapy water. Use gentle degreasing soap, such as mild dish soap, to remove residue on the ring, and gently scrub the ring with a soft bristle brush such as an old toothbrush. However, emeralds should not be placed in ultrasonic cleaners.
You should remove your emerald engagement ring to bathe or wash your hands. Store it in a safe place so it does not slip down the drain. Avoid wearing fine jewellery when you are doing housework, gardening or participating in a sport.
There is no best cut for an emerald engagement ring. It's purely down to personal taste as to which cut will be suitable for your engagement ring.
Yes, emerald engagement rings are very popular. They have been a traditional choice for engagement rings for centuries, and are still popular today. Emeralds are a symbol of love, faithfulness, and loyalty, and they are often chosen to represent the eternal bond between two people.
When choosing an emerald engagement ring for your partner, it is important to consider the cut, setting, quality, and colour. Look at the shape of your partner's finger to decide which cut will look best, and pick a setting from metals like gold or platinum. Make sure the emerald is clear and not cloudy or dull and think about the type of green your partner might like for the colour.
Engagement Listing Page