SORRY NO ITEMS WERE FOUND.
Please refine your search or try another search term.
Select a price range to suit your budget
SORRY NO ITEMS WERE FOUND.
Please refine the selected filters.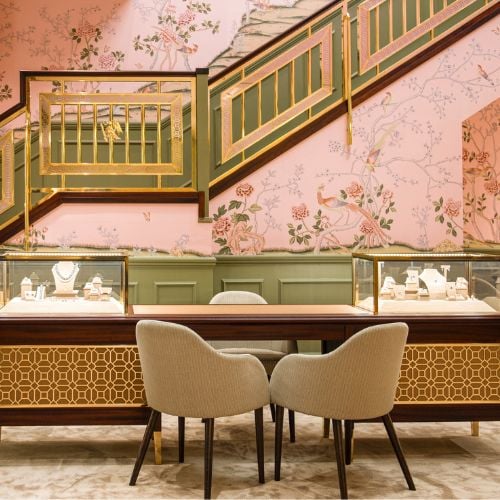 BOOK AN APPOINTMENT
Whether you book an appointment to visit us in person or opt for a virtual consultation from the comfort of your own home, you'll receive the same high standard of service and individual care and attention from our expertly trained consultants who can share designs, discuss gemstone options and even model pieces.
Frequently Asked Questions
Below are the answers to our most commonly asked questions. Should you want to find out more please feel free to Contact Us us and begin your Pragnell experience.
An eternity ring is a ring given to a partner to mark a special milestone in a relationship. This could be an anniversary or the birth of a child. The eternity ring symbolises lasting love and affection.
Find out more about eternity rings in our
Eternity Ring Guide
.
You do not have to be married to wear an eternity ring. Often referred to as a 'promise ring', the ring symbolises everlasting love.
There is no specific time when you should buy an eternity ring for your partner. It is common for partners to receive an eternity ring on their first wedding anniversary as a reminder of their love and devotion towards each other.
An eternity ring is very much down to interpretation. Eternity rings can be seen as a representation of a love that has already lasted for years or a promise of more years of love and devotion. The same can be said of promise rings.
You would normally wear an eternity ring on your wedding ring finger, which is on the left hand, second from the left. However, you can wear an eternity ring on any finger you choose.
About Diamond Eternity Rings
Diamond eternity rings are the perfect symbol of everlasting love. A continuous, unbroken band of individually set diamonds to signify eternal commitment and love shared. Traditionally given to mark a wedding anniversary or the birth of a child, eternity rings are full of sentiment and given to celebrate life's most precious moments. Incorporate gemstones with diamonds into your chosen eternity ring to denote a specific anniversary or personalise with the wearer's birthstone.
Engagement Listing Page