SORRY NO ITEMS WERE FOUND.
Please refine your search or try another search term.
Select a price range to suit your budget
SORRY NO ITEMS WERE FOUND.
Please refine the selected filters.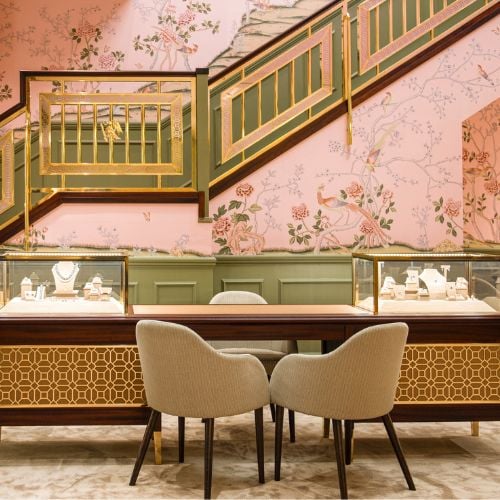 BOOK AN APPOINTMENT
Whether you book an appointment to visit us in person or opt for a virtual consultation from the comfort of your own home, you'll receive the same high standard of service and individual care and attention from our expertly trained consultants who can share designs, discuss gemstone options and even model pieces.
Frequently Asked Questions
Below are the answers to our most commonly asked questions. Should you want to find out more please feel free to Contact Us us and begin your Pragnell experience.
Emeralds are known for their captivating green colour, which ranges from a deep, rich green to a lighter, more vibrant green hue. The finest emeralds are prized for their intense and saturated green colour, often likened to the lush green of spring foliage.
Gemstones that can resemble emerald in appearance include green tourmaline, peridot, and certain varieties of green garnet, such as demantoid garnet. These gems share similar shades of green, but each stone possesses its unique characteristics and properties, distinguishing them from emeralds.
To determine if an emerald is real, closely examine its colour and clarity. Authentic emeralds typically display a vibrant green colour with inclusions visible under magnification, while fake ones may have unnatural colours or lack visible imperfections. Additionally, consult a professional gemmologist or jeweller who can use specialised tools to accurately authenticate the emerald and distinguish it from imitations or synthetic alternatives.
Emeralds symbolise love, rebirth, and prosperity. Often associated with the lushness of nature and the beauty of spring, emeralds are believed to bring harmony, balance, and growth. They are also considered a symbol of hope and inspiration, signifying new beginnings and spiritual renewal.
Yes, emerald jewellery is a timeless and elegant choice that remains in style year after year. The mesmerising green hue of emeralds, coupled with their association with beauty and abundance, makes them a popular and cherished gemstone among fashion-forward individuals and jewellery connoisseurs alike.
Yes, you can wear emerald jewellery every day, but with some caution. While emeralds have a good level of hardness, they are not as durable as diamonds, so it's essential to handle them with care and avoid exposing them to harsh chemicals or rough activities. Regular cleaning and proper storage will help maintain the beauty and longevity of your emerald jewellery for daily wear.
To care for emerald jewellery, avoid exposing it to harsh chemicals or extreme temperature changes. Clean gently with mild soapy water and a soft brush and avoid steam or ultrasonic cleaners that can damage the gemstone. Store emerald pieces separately to prevent scratching and avoid prolonged exposure to sunlight, as it may cause fading or colour changes over time. Regularly inspect and have them professionally cleaned by a jeweller to maintain their brilliance and lustre.
About Emeralds
The most famous member of the beryl family, emerald's lush green has soothed souls and excited imaginations since antiquity. Its name comes from the ancient Greek word for green, and it is associated with peace and prosperity. As the birthstone for May, the emerald, a symbol of rebirth, is believed to grant the owner foresight, good fortune, and youth. Emerald, derived from the word "smaragdus," means, quite literally, "green" in Greek.

The first known emerald mines were in Egypt, dating from at least 330 BC into the 1700s. Cleopatra was known to have a passion for emerald, and used it in her royal adornments. Emerald gemstones were mined in Egypt as early as 330 BC, but some estimate that the oldest emeralds are 2.97 billion years old. Cleopatra is perhaps the most famous historical figure to cherish emerald gemstones. She even claimed ownership of all emerald mines in Egypt during her reign.
Jewellery Listing Page