SORRY NO ITEMS WERE FOUND.
Please refine your search or try another search term.
Select a price range to suit your budget
SORRY NO ITEMS WERE FOUND.
Please refine the selected filters.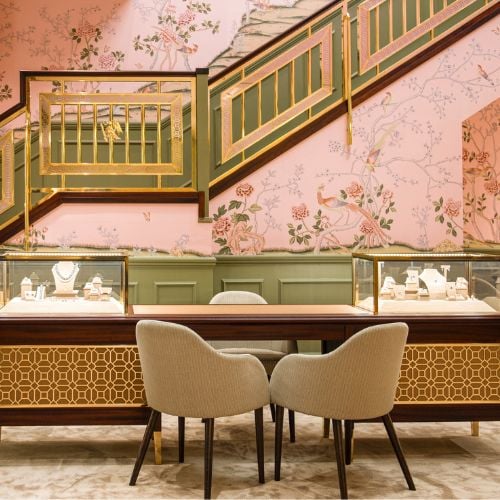 BOOK AN APPOINTMENT
Whether you book an appointment to visit us in person or opt for a virtual consultation from the comfort of your own home, you'll receive the same high standard of service and individual care and attention from our expertly trained consultants who can share designs, discuss gemstone options and even model pieces.
About Van Cleef & Arpels Antique Jewellery
Founded through the union of love between Alfred Van Cleef & Estelle Arpels in 1896, the House of Van Cleef & Arpels quickly became a destination for the rich and famous. Their reputation quickly developed due to unique designs that were influenced by the beauty of the natural world, coupled with a desire to showcase only the very best gemstones with a unique "caractere". The 1960s was a particularly important period for the House, as they were commissioned to make a number of pieces for the Coronation of the Emperor and Empress of Iran in 1967. The resulting jewels survived the revolution of 1979, and are housed in the Central Bank in Tehran, where priceless emeralds and natural pearls from the Iranian treasure can be viewed by all. The House also created the now iconic Alhambra collection in 1968, which still captivates with an instantly recognisable quatrefoil clover shape. The late actress and Princess of Monaco, Grace Kelly (1929-1982), was a loyal client of the House and wore many pieces throughout her life:

"I favour pearls on screen and in my private life."

You will always find an interesting selection of antique and vintage Van Cleef & Arpels pieces offered at Pragnell, ranging from bracelets, necklaces, earrings and rings that span the 20th-century.
Antique Listing Page