A Royal Connection
We are immensely proud of our tapestry of royal connections, which stretches back to the early 19th century. The founder of our family company, George Pragnell, began his career as an apprentice at Biggs of Maidenhead, jeweller to Queen Mary. As a young man, he was instructed to entertain the young Princesses Elizabeth and Margaret as their grandmother perused the jewels on display.

When George Pragnell opened his own jewellery house in Stratford-upon-Avon in 1954, he recognised the value of such royal relations. Over the decades, Pragnell acquired the prestigious jewellery houses, George Tarratt (est. 1915) and Philip Antrobus (est. 1815) - the creator of the Queen's engagement ring.

The company's antique jewellery prowess was also bolstered through its family ties. Jeremy Pragnell, George's son, married Jane Blott, a sixth-generation member of the family behind Bond Street jeweller, Waters & Blott (est. 1850), which manufactured Antrobus jewellery. In turn, Emily Pragnell, the wife of Jeremy's son Charlie, is a relative of the Garrard family, Crown Jeweller from 1843 until 2007.

Six generations of jewellery-making expertise are reflected in our breadth of knowledge and commitment to quality craftsmanship. Our in-house team includes GIA-trained gemmologists, antique jewellery specialists, master craftspeople and accredited Swiss watch experts. Not only do we source exceptional period and antique jewellery, but we also specialise in redesigning antique jewels into wearable and contemporary creations.

Our royal heritage is also reflected in our fine jewellery designs. When we acquired Philip Antrobus, we inherited its archive stretching back to 1815, and many of our contemporary jewellery creations are inspired by pieces from the past. Nowhere is this more apparent than in our Antrobus collection, a modern interpretation of the Queen's engagement ring and the diamond bracelet she wore on her wedding day in 1947.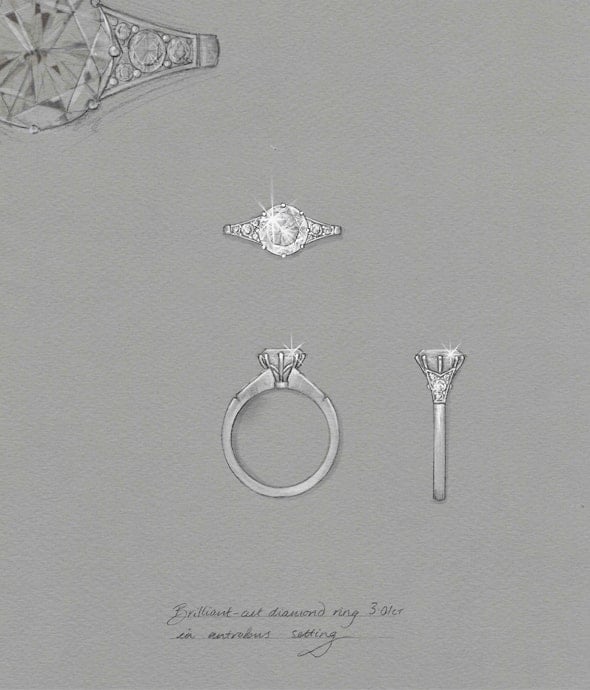 The Antrobus Ring
The Queen's engagement ring was created by Antrobus Ltd using diamonds from a royal tiara. Our Antrobus ring is an homage to its timeless beauty.

When Prince Philip of Greece decided to propose to Princess Elizabeth in 1946, he needed an engagement ring fit for a future Queen. His mother, Princess Alice of Battenburg, gave him an exquisite antique tiara, which was dismantled to provide the diamonds for the Princess's ring. The Prince commissioned prestigious Bond Street jeweller Philip Antrobus Ltd, now owned by Pragnell, to design and create the ring.

The ring features a magnificent three-carat round brilliant diamond, set in platinum and flanked by smaller pavé set diamonds: a timeless design that the Queen cherished greatly. In 2016, Pragnell celebrated the 70-year anniversary of the royal proposal by launching the Antrobus engagement ring: not a replica of the Queen's ring, but a contemporary interpretation inspired by its classic elegance. The Antrobus engagement ring is crafted in platinum, with GIA-certified diamonds selected for their peerless beauty and brilliance. Available with a central diamond of any size from 0.5 carats, each ring is lovingly handcrafted in our British workshops.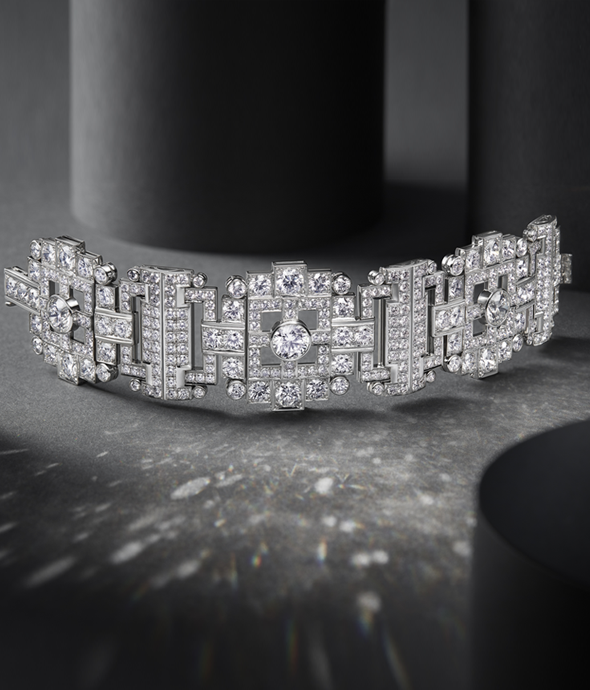 The Antrobus Bracelet
On her wedding day in 1947, the Queen wore a bracelet crafted with antique diamonds. Our one-of-a-kind Antrobus bracelet celebrates its dazzling beauty.

Prince Philip also commissioned Antrobus Ltd to create a spectacular bracelet using diamonds from his mother's tiara. The Prince presented Princess Elizabeth with the bracelet as a wedding gift, and she wore it on her wedding day on 20th November 1947. The Queen continued to wear the bracelet at royal engagements throughout her reign. When Pragnell acquired Antrobus, we inherited its archive, including the original design for this illustrious bracelet. In celebration of the platinum anniversary of the royal engagement, we created a one-of-a-kind Antrobus bracelet, inspired by the geometric beauty of the original. Crafted in platinum, the Antrobus bracelet features over 320 modern brilliant cut diamonds totalling over 45 carats, each one selected by a member of the Pragnell family for its quality and beauty. Three identical geometric motifs each boast a 2.5-carat diamond at their centre. The bracelet took three months to handcraft in our British workshop. Our master craftspeople shaped, set and polished more than 70 component parts by hand, using traditional goldsmithing techniques. The result is a dazzling heirloom, fit for a Queen.
You May Be Interested In
Generic CLP Page