SORRY NO ITEMS WERE FOUND.
Please refine your search or try another search term.
Select a price range to suit your budget
SORRY NO ITEMS WERE FOUND.
Please refine the selected filters.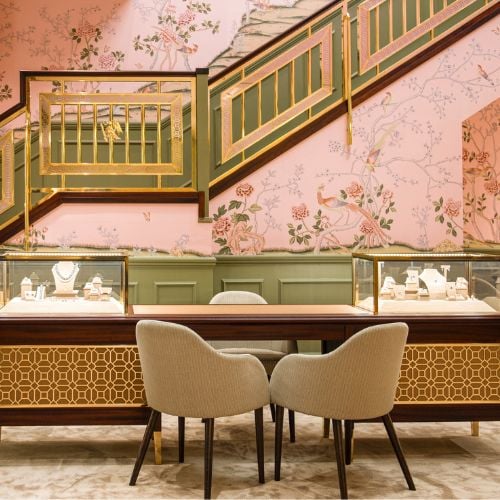 BOOK AN APPOINTMENT
Whether you book an appointment to visit us in person or opt for a virtual consultation from the comfort of your own home, you'll receive the same high standard of service and individual care and attention from our expertly trained consultants who can share designs, discuss gemstone options and even model pieces.
Frequently Asked Questions
Below are the answers to our most commonly asked questions. Should you want to find out more please feel free to Contact Us us and begin your Pragnell experience.
There are many different types of earrings, including studs, hoops, chandeliers, drop earrings, huggie earrings and clip-on earrings.
The most flattering earrings depend on the face shape and personal style of the person wearing them. For those with round faces, long, dangling earrings are most flattering. Those with oval or heart-shaped faces look best in studs, hoops, and other small earrings. For those with square faces, round or curved hoop earrings are most flattering. Ultimately, the best earrings are the ones that make the wearer feel most confident and comfortable.
The most comfortable earrings are those that are lightweight, have a smooth surface and are made of high-quality materials. Stud earrings are often the most comfortable option because they are the least likely to irritate the skin.
Stud earrings are a classic style that can make you look younger. Hoops and dangle earrings can also add a youthful touch.
Earrings that are larger and more ornate, such as chandelier earrings or hoop earrings with gemstones, can make you look older.
The best way to know what size earrings to get is to measure the size of your earlobes. The most common sizes for earrings are 8mm, 10mm, and 12mm. If you don't have a measuring tool, you can compare the size of your earlobes to a pair of earrings that you already own.
Smaller earrings are usually the best choice for small ears, such as studs, hoops, or dainty drops. Look for earrings that are proportional to your face and don't overwhelm your ears.
Earrings that are longer than they are wide, such as teardrop or drop earrings, can help elongate your face. Longer earrings draw the eye down and away from the face, creating an illusion of length.
When choosing earrings to match your outfit, think about the colours and styles of both the earrings and the clothing. If you are wearing a bright, colourful outfit, opt for a pair of earrings that will draw attention and compliment the look. If you are wearing something more neutral, choose a pair of earrings that will add a subtle sparkle or pop of colour. Be sure to also consider the occasion, as certain earrings may be more appropriate for certain events.
Pushback earrings are earrings that feature a clasp which is designed to hold the earring securely to the earlobe. The pushback mechanism is usually a small metal piece that slides into a groove on the back of the earring, which creates tension and holds the earring in place.
Flat back earrings are a type of earring that features a flat surface on the back of the earring, as opposed to a rounded or curved surface. They are typically used in earring designs that have been created to be worn with a backing or backing plate. These earrings often have a more modern look than traditional round or curved earrings, and they can come in a variety of styles and designs.
Yes, it is generally safe to shower with earrings in. However, there is a risk that the earrings may become tarnished or discoloured if done frequently.
Jewellery Listing Page