SORRY NO ITEMS WERE FOUND.
Please refine your search or try another search term.
Select a price range to suit your budget
SORRY NO ITEMS WERE FOUND.
Please refine the selected filters.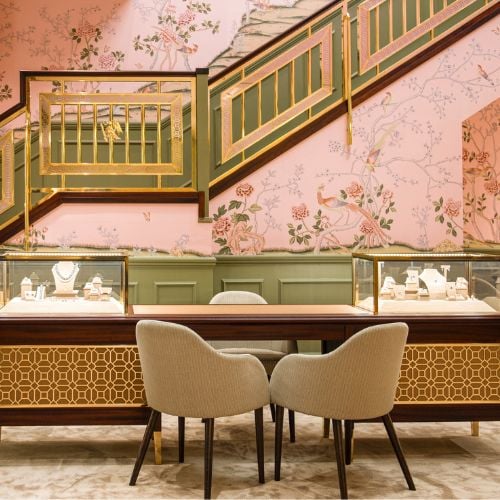 BOOK AN APPOINTMENT
Whether you book an appointment to visit us in person or opt for a virtual consultation from the comfort of your own home, you'll receive the same high standard of service and individual care and attention from our expertly trained consultants who can share designs, discuss gemstone options and even model pieces.
About Cartier Vintage Jewellery
Founded in Paris in 1847, the rich and illustrious history of the House of Cartier has defined the jewellery world for nearly two hundred years. Still regarded as a byword for luxury, the House was famously referred to as "the jeweller of kings and the king of jewellers" by King Edward VII in the early 20th-century. Forever associated with royalty and Hollywood glamour, Cartier bracelets, rings, necklaces and earrings are regarded as the perfect way to mark important life events. The late actress, Dame Elizabeth Taylor (1932-2011), was a huge fan of the House, and wore the 68 carat pear shaped Taylor-Burton diamond with pride as both a ring and necklace:

"I've never thought of jewellery as trophies. I'm here to take care of it and to love it. For we are only temporary custodians of beauty."

The famous red leather Cartier box is an assurance of exceptional design and superb craftsmanship, with pieces bearing the famous Cartier signature often being lauded as exemplars of important styles and periods, ranging from the lauded 'garland-style' through to the bold Art Deco and Retro. Pragnell are proud to offer an eye-catching selection of antique, vintage and pre-owned Cartier jewellery that incorporates carefully curated pieces, including the Love and Juste Un Clou designs; ranging from the Art Deco period to the 1990s.
Antique Listing Page