Pragnell Showroom, Stratford-upon-Avon
5 - 7 Wood Street, Stratford-upon-Avon, Warwickshire
Our ancestral home in the heart of the English countryside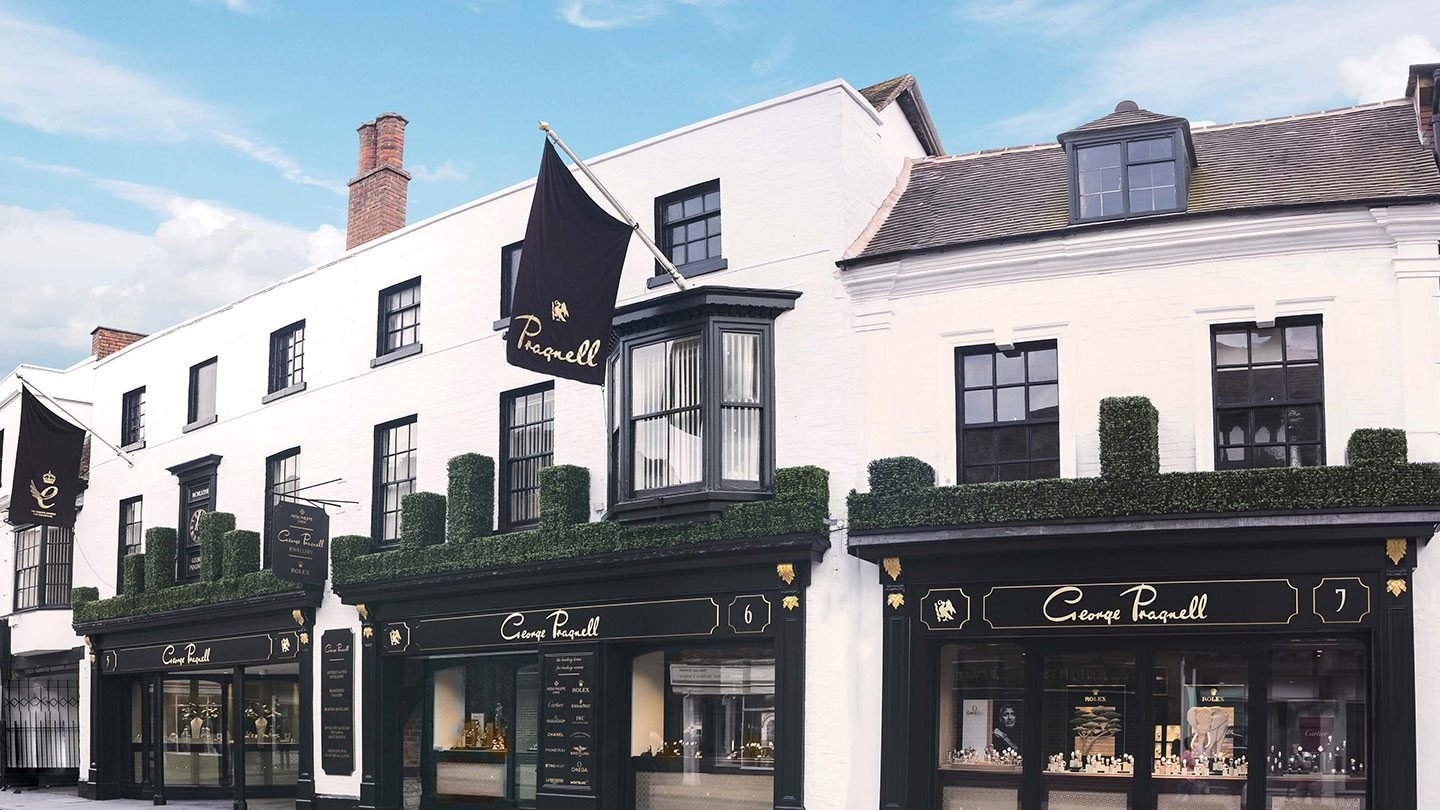 In 1954, George Pragnell and his young family arrived at number 5 Wood Street with dreams of building a business and a home. To this day, our headquarters stand in the very same building in the heart of Stratford-upon-Avon; the Pragnell history and family values are embedded within these walls. The town of Stratford and its most famous son, William Shakespeare, are indelibly tied to this building, which was built by a friend and drinking companion of the great Bard, Abraham Sturley, in 1594.
Over the years, the original Pragnell home in Wood Street has expanded to incorporate four Tudor cottages, including numbers 5 and 6. 2019 was a landmark year in the Pragnell story as we underwent an exciting expansion into number 7. Along with a revamp of our existing buildings, these plans doubled our showroom space, enabling us to showcase an even wider selection of our fine jewellery and timepieces. Please do visit us and you can, of course, be sure of a warm welcome.
5-7 Wood Street
Stratford-upon-Avon
CV37 6JA
CHRISTMAS OPENING HOURS
Monday – Saturday: 9:30am – 5.30pm
Sunday 10th/17th/24th December: 11.00am – 4:00pm  

Christmas Day: Closed
Boxing Day: Closed
Wednesday 27th December: Closed
Thursday 28th December: 9:30am – 5.30pm
Friday 29th December: 9:30am – 5.30pm
Saturday 30th December: 9:30am – 5.30pm
Sunday 31st December: Closed
New Year's Day: Closed
Tuesday 2nd January: 9:30am – 5.30pm

+44 (0) 1789 267 072
Services
Antique and Fine Jewellery
Swiss Made Watches
Ring Resizing
Pre-owned Watches
Servicing for Watches & Clocks
Bespoke Jewellery
Redesigning Jewellery
Jewellery & Silver Restoration

Customer Feedback
"Great place, lovely polite attentive and knowledgeable staff, and an amazing range of high end jewellery and watches. Very happy."
David Duro
"Excellent service and friendly staff members. Highly recommended."
Mark Chan
"Just Amazing - Thank you Visited Pragnell's after being slightly apprehensive to enter such a prestigious shop. Staff, ambiance, service, attention to detail and budget were all amazing. Follow up customer care outstanding. Thank you Marc we'll visit you again soon."
Claire Peggram
"Emma helped me and my fiancée to find my dreamed engagement ring. She was very knowledgeable and patient, the shop has a big selection of very high quality of diamonds, GIA certified. Seams like each jewellery is unique, the shop is very elegant and the staff make you feel very special and welcomed. We are ready now to decide for the wedding rings, at Pragnell of corse, with Emma's help. Diamonds are forever."
Fbtemp Borsan
"Fantastic Jeweller a must place to visit."
Stephen Kaye
"Fantastic jewellers, would reccomend to anybody to get great quality jewelry from fantastic staff. Emma was very knowledgeable and patient."
Chris Lewthwaite
"I received superb service from Shanshan Ge at Pragnell's in Stratford-upon-Avon. Absolutely faultless. From the moment we entered the showroom, to the moment we left, it was choreographed to perfection."
Steven Schapera
"Stunning jewellers with high-quality products and staff. Nice to have such a showroom in Stratford upon Avon with no need to travel to London. Design services also an option."
Susan Atkinson
"Fantastic Family owned business. Amazing range of Jewellery and watches also giftware. Lovely staff very helpful and friendly. It's a must visit in the heart of Stratford-upon-Avon."
Fred Warham
"My wife and I visited Pragnell and on entering the store received a warm welcome from two members of staff. We had an appointment with Marc who dealt with us in a courteous and professional manner. We were offered some refreshments and we had the feeling of being honoured guests in the establishment, although I'm sure this was normal behaviour for the attentive staff. I would thoroughly recommend Pragnell to anyone wishing to purchase any item of jewellery and we will certainly visit them again."
John Williams
"My fiancé and I visited George Pragnell's to choose an engagement ring. We were helped by Amie who was wonderful and made the experience both personal and special. What a wonderful experience and exquisite choice in diamond rings."
Alex Walkeden
"Excellent service excellent staff. Fantastic items."
Karl Garrett
"An exceptionally pleasant and satisfactory experience from start to finish. I made no effort to dress up on my first visit to the Stratford store, arriving in a t shirt and shorts, I could not have been treated better. The door was opened for me and I was greeted with "good afternoon Sir, how can I help?" I had already engaged in a brief email dialogue with Aime who had answered my initial questions promptly and completely. Both in email and in person Aime listened attentively to my needs and then showed me a range of rings. I had made it very clear that I would not be spending any money on this visit and she was not concerned offering to show me any number of rings. When I returned the following day with my partner the welcome was as good and the service continued to be first rate. The number of rings available in my stated price range was impressive. We will certainly be returning and would recommend Pragnell without hesitation. We will try and ensure that it is Aime who serves us next time."
David Stevinson
"I recently had an excellent experience at Pragnell Stratford-upon-Avon where I was served by Andrew who was very knowledgeable about the Rolex I wished to purchase. The initial model I was after was unavailable due to high demand however, Andrew was very helpful in suggesting an alternative model which turned out to be perfect! We travelled from Birmingham and the entire team were very friendly upon our arrival by offering refreshments and truly made us welcome at this beautiful store. The customer service received was exceptional and I will definitely be visiting again. Thank you to Andrew and the team, it was lovely meeting everyone."
Nushin Rahman
"I had a great customer experience, wonderful old fashioned service and was made to feel special for the purchase of my first Rolex wristwatch. Many thanks John for sourcing the watch I wanted so quickly. I look forward to returning in the future."
Mark Willis
"Simply outstanding service from Pragnell's. Sam couldn't have been more knowledgeable, helpful and friendly from the start to the finish of my watch purchase. Thank you, Sam."
James
"Outstanding experience,professional service, Beautiful shop.Our family will always come back .Many thanks to Andrew Gregory without you I wouldn't have my dream wrist watch, cheers."
Dan Jarz
"Superlative customer service and staff."
Sub Zero
"Bought a watch from Pragnell's, both Oliver and Martin were very knowledgeable and friendly. They showed the same passion for watches as I would expect. Some watch stores can be very stuffy but this was refreshing. Will buy again in the future. Oh and I got a bottle of Pragnell's champagne at the end."
Ross Hetherington
"An Aladdins cave, exemplary service helping you get what you want, not 'how much can you afford'. Jewellers as they used to be, individual and definitely not a high street multiple. Pardon the pun but a real gem amongst jewellery shops."
N Forman
"Just visited to enquiry about a new Rolex. Friendly and helpful. Great selection of new and pre-owned quality Swiss watches."
Matt Lower
"They have been in Stratford for many years. They are the premiere jewellers in Stratford."
Ben P
Our Other Showrooms
From Market Street to Mayfair you can be sure of a warm welcome at any of our showrooms across Great Britain.
Generic CLP Page