SORRY NO ITEMS WERE FOUND.
Please refine your search or try another search term.
Select a price range to suit your budget
SORRY NO ITEMS WERE FOUND.
Please refine the selected filters.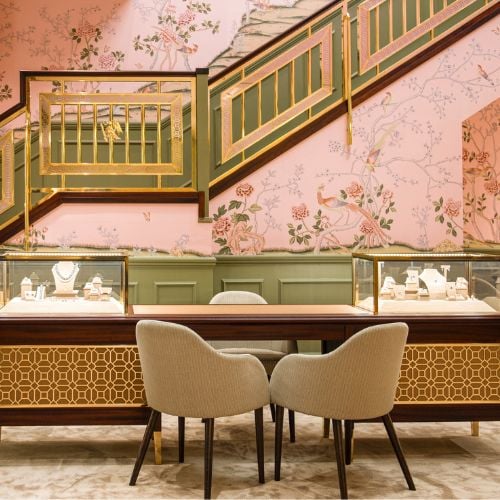 BOOK AN APPOINTMENT
Whether you book an appointment to visit us in person or opt for a virtual consultation from the comfort of your own home, you'll receive the same high standard of service and individual care and attention from our expertly trained consultants who can share designs, discuss gemstone options and even model pieces.
About Antique Bvlgari Jewellery
Bvlgari was founded in Rome in 1884, and specialised in jewellery and silverware. Still in operation today, the name is associated with a characteristic Italian style, which focuses on the combination of bold yellow and rose gold with coloured gemstones and diamonds. The popularity of Bvlgari pieces today is largely due to the late Dame Elizabeth Taylor, who was a well-known jewellery collector and connoisseur. Whilst filming Cleopatra in Rome during the 1960s, she fell in love with her co-star Richard Burton, and the pair became frequent visitors to the Bvlgari boutique on the Via Condotti. As such, a large number of Bvlgari pieces featured in her extensive collection when it was sold at Christies in 2011:

"I used to get so excited, I would jump on top of him and practically make love to him in Bvlgari."

At Pragnell, we specialise in antique and vintage Bvlgari jewellery, focusing on bold gold pieces from the Retro period that formed part of the Parentesi range. Family owned until 2011, the Retro period produced some truly iconic pieces, which we are actively seeking to enrich our collection.
Antique Listing Page