SORRY NO ITEMS WERE FOUND.
Please refine your search or try another search term.
Select a price range to suit your budget
SORRY NO ITEMS WERE FOUND.
Please refine the selected filters.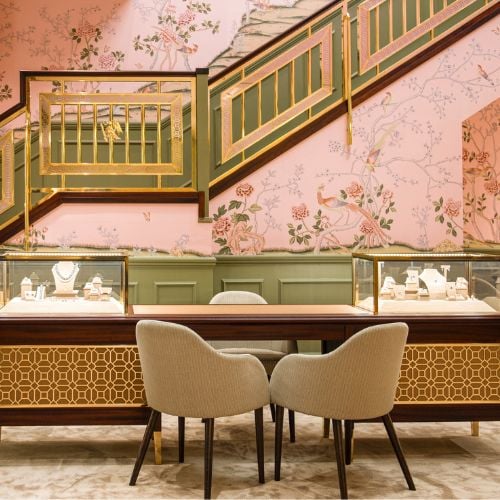 BOOK AN APPOINTMENT
Whether you book an appointment to visit us in person or opt for a virtual consultation from the comfort of your own home, you'll receive the same high standard of service and individual care and attention from our expertly trained consultants who can share designs, discuss gemstone options and even model pieces.
About Art Deco Jewellery
The Art Deco period lasted from 1911-1940, and produced some of the most iconic jewellery designs of the 20th-century. Also influencing architecture and the wider decorative arts, this period became known for the iconic combination of bold geometric forms and bright colours.

As a sixth generation family jeweller, Pragnell are proud to continue our tradition of offering a carefully curated selection of interesting and unusual pieces of vintage Art Deco jewellery from this exciting period.

Our extensive selection of Art Deco Gatsby jewellery pieces have been hand-selected by a member of the Pragnell family from across the globe. Offering something for every taste and budget, you will find delicate Art Deco earrings, brooches and pendants, along with gleaming diamond set plaque bracelets and coupled with interesting jadeite and rock crystal earrings.

Pieces bearing the signatures of the most famous makers are hugely collectible, and we are always happy to showcase exceptional creations from Cartier, Tiffany & Co & Rene Boivin. Many of these examples have been acquired in their original boxes, which adds to their prestige and collectability.
Antique Listing Page