SORRY NO ITEMS WERE FOUND.
Please refine your search or try another search term.
Select a price range to suit your budget
SORRY NO ITEMS WERE FOUND.
Please refine the selected filters.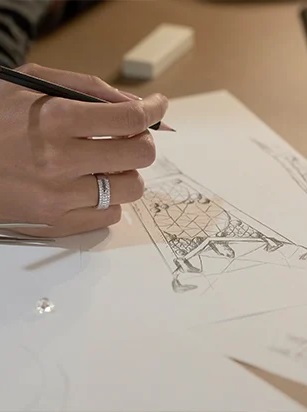 Discover Our Bespoke Service
Design and create a unique jewel, custom-made just for you. We'll bring your dream to life; the only limit is your imagination.
Frequently Asked Questions
Below are the answers to our most commonly asked questions. Should you want to find out more please feel free to Contact Us us and begin your Pragnell experience.
Sapphires are a perfect choice for an engagement ring and complement yellow gold and platinum bands extremely well.
Sapphires are very durable but can scratch and chip with daily wear over many years.
Sapphires do sparkle. Light can enter the gemstone much like a diamond and give a sparkly effect if the gemstone is cut to a brilliant standard.
You can wear your sapphire engagement ring every day but as with any jewellery, it's best to take the ring off when doing daily errands such as washing up, or during exercise.
Sapphire engagement rings are easy to clean with warm, soapy water. Use gentle degreasing soap, such as mild dish soap, to remove residue on the ring, and gently scrub the ring with a soft bristle brush such as an old toothbrush.
You should remove your jewellery to bathe or wash your hands. Store it in a safe place so it does not slip down the drain. Avoid wearing fine jewellery when you are doing housework, gardening or participating in a sport.
About Sapphire Engagement Rings
Sapphire engagement rings have been exchanged as symbols of faithfulness and union throughout history. The vivid spectrum of colours in which they naturally occur are perfect for capturing the personality of your partner, though it is the rich blue sapphires that are most precious and adored by all. From the deep royal blue Ceylon sapphires of Sri Lanka to the captivating cornflower blue Kashmir sapphires of India, with texture often likened to velvet, sapphires offer a striking alternative to gift your beloved. Celebrated for their regal stature and enduring appeal, the most notable sapphire engagement ring was bestowed upon Princess Diana in 1981. An eighteen-carat Ceylon blue oval cut set into a diamond rich vintage cluster design. Now worn by the Duchess of Cambridge, this treasured royal heirloom demonstrates the timeless allure of the precious gem. Popular styles include vintage cluster and trilogy designs as sapphires are often paired with diamonds to draw out the gemstones depth of colour.
Engagement Listing Page