SORRY NO ITEMS WERE FOUND.
Please refine your search or try another search term.
Select a price range to suit your budget
SORRY NO ITEMS WERE FOUND.
Please refine the selected filters.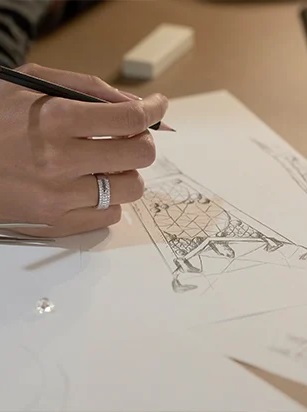 Handcrafted
Discover Our Bespoke Service
Design and create a unique jewel, custom-made just for you. We'll bring your dream to life; the only limit is your imagination.
Frequently Asked Questions
Below are the answers to our most commonly asked questions. Should you want to find out more please feel free to Contact Us us and begin your Pragnell experience.
Radiant cut diamonds possess a silhouette shape very similar to an emerald shape, but their facets are brilliant cut, which is a more similar cut to that of round diamonds.
Radiant-cut diamonds sparkle beautifully because of the interesting way the diamond is cut.
This is purely subjective and it is important to search for the right diamond for your tastes to get the best mix of both colour and clarity.
About Radiant Cut Engagement Rings
A radiant cut diamond is typically square or rectangular in shape and contains seventy facets, with a mix of step-cut facets on the crown, brilliant cut facets on the pavilion and bevelled corners. After the round brilliant cut, the radiant cut diamond will offer the most light return and sparkle, making radiant cut diamond engagement rings ideal for those looking for a classic elegant shape combined with dazzling brilliance. Colour is more important than clarity in selecting your perfect radiant cut diamond engagement ring, as due to their extra facets dispersing more light throughout the stone, the radiant cut can be forgiving of inclusions, unlike an emerald cut which favours diamonds of exceptional clarity. Our radiant cut diamonds are exquisitely set into a range of handcrafted engagement ring styles from the classic solitaire, unique, vintage designs and complementary cluster surround diamond settings. All radiant-cut engagement rings are beautifully finished in the precious metals of platinum and gold.
Engagement Listing Page