SORRY NO ITEMS WERE FOUND.
Please refine your search or try another search term.
Select a price range to suit your budget
SORRY NO ITEMS WERE FOUND.
Please refine the selected filters.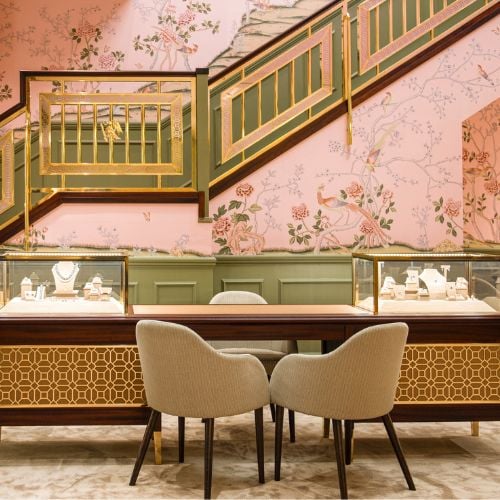 BOOK AN APPOINTMENT
Whether you book an appointment to visit us in person or opt for a virtual consultation from the comfort of your own home, you'll receive the same high standard of service and individual care and attention from our expertly trained consultants who can share designs, discuss gemstone options and even model pieces.
Frequently Asked Questions
Below are the answers to our most commonly asked questions. Should you want to find out more please feel free to Contact Us us and begin your Pragnell experience.
The 4C's are Cut, Clarity, Carat, and Colour. These 4 characteristics are used to evaluate the quality and value of a diamond. Cut refers to the shape and proportions of the diamond, Clarity is a measure of how flawless the diamond is, Carat is the unit of weight used to measure the size of the diamond, and Colour is the hue of the diamond. Find out more about the 4Cs in our
Diamond Guide
.
GIA certification is a grading system created by the Gemological Institute of America (GIA) to evaluate the quality and characteristics of diamonds. The grading system is used to identify and classify diamonds in terms of their clarity, colour, cut, carat weight, and other factors. The GIA certification provides buyers with a detailed report about the diamond's characteristics, which helps them make informed decisions when buying diamond jewellery.
Yes, diamond rings can retain their value. Diamonds are considered an asset and are often passed down through generations. It is important to keep your diamond ring in good condition and certified to ensure that it retains its value over time.
When shopping for a diamond ring, consider the 4Cs of diamond quality: Cut, Colour, Clarity, and Carat weight. Cut is the most crucial factor to consider when buying a diamond, as it determines the diamond's sparkle and brilliance. Colour refers to the diamond's lack of colour, with the highest quality diamonds being colourless. Clarity is the measure of the diamond's inclusions and blemishes, with the highest clarity diamonds having no visible inclusions or blemishes. Lastly, carat weight measures how much the diamond weighs, with larger diamonds costing more than smaller ones.
Jewellery Listing Page