SORRY NO ITEMS WERE FOUND.
Please refine your search or try another search term.
Select a price range to suit your budget
SORRY NO ITEMS WERE FOUND.
Please refine the selected filters.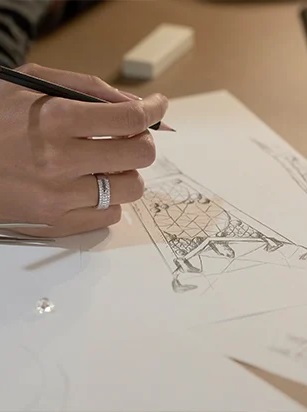 Handcrafted
Discover Our Bespoke Service
Design and create a unique jewel, custom-made just for you. We'll bring your dream to life; the only limit is your imagination.
Frequently Asked Questions
Below are the answers to our most commonly asked questions. Should you want to find out more please feel free to Contact Us us and begin your Pragnell experience.
The heart shape engagement ring is one of the most endearing cuts for diamonds, the heart cut is a variation of the brilliant cut. A multitude of facets reflects light with spectacular, sparkling beauty.
Heart engagement rings should be worn on the left-hand ring finger, with the point facing away from you.
About Heart-Shaped Engagement Rings
A romantic and unique choice, the heart shape cut is a variant of the brilliant featuring fifty-six to fifty-nine facets, which combine to create graceful curves and the iconic silhouette of the heart. They offer the same exceptional sparkle and fire of the round brilliant cut, with added romance. Many people ask the correct way to wear a heart-shaped engagement ring and the answer is there is no right or wrong, however, some say if you are unattached to wear the point of the heart away from you, this also symbolises that you are open to finding love. After you have found your special someone, turn the ring to wear the point towards you, this signifies that you are no longer looking for love and you have given your heart to another. Our heart-shaped gemstones are exquisitely set into a range of handcrafted engagement ring styles from the classic solitaire, unique, vintage designs and complementary cluster surround diamond settings. At Pragnell, all of our heart-shaped engagement rings are beautifully finished in the precious metals of platinum and gold.
Engagement Listing Page