SORRY NO ITEMS WERE FOUND.
Please refine your search or try another search term.
Select a price range to suit your budget
SORRY NO ITEMS WERE FOUND.
Please refine the selected filters.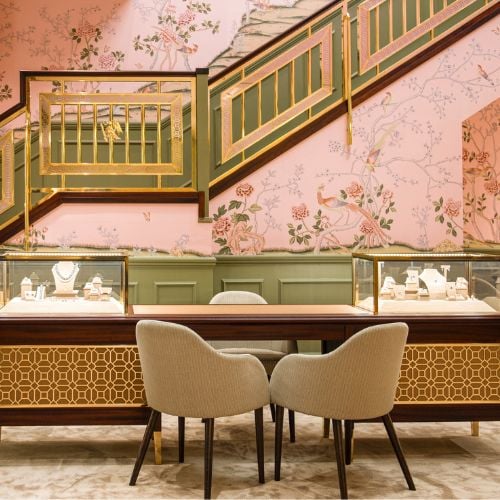 BOOK AN APPOINTMENT
Whether you book an appointment to visit us in person or opt for a virtual consultation from the comfort of your own home, you'll receive the same high standard of service and individual care and attention from our expertly trained consultants who can share designs, discuss gemstone options and even model pieces.
Frequently Asked Questions
Below are the answers to our most commonly asked questions. Should you want to find out more please feel free to Contact Us us and begin your Pragnell experience.
A woman can wear a bracelet on either wrist, but typically it is worn on the left wrist.
1. Bangle Bracelets: These are classic, round bracelets that slip over the wrist. 2. Cuff Bracelets: These are wide, rigid bracelets that typically open and close with a hinge. 3. Charm Bracelets: These feature small charms attached to a metal link or chain. 4. Chain Bracelets: These bracelets feature metal links or chains dangling from a basic clasp. 5. Tennis Bracelets: These bracelets feature a continuous line of stones, such as diamonds or gems, set in a metal base. 6. Link Bracelets: These are like chain bracelets but feature an intricate pattern of metal links.
A bracelet can be worn for any occasion, including daily wear as well as special occasions such as weddings, birthdays, anniversaries, graduations, religious holidays, etc.
Yes, it is perfectly fine to wear bracelets on both wrists. It is a matter of personal choice and style.
A bracelet should fit snugly but not so tight that it feels uncomfortable. It should not be so loose that it slides up and down your wrist.
1. Wrap a flexible measuring tape around your wrist. 2. Find a spot on your wrist where the measuring tape is comfortable and snug, but not too tight. 3. Record the measurement in inches or centimetres. 4. Add 1/2 inch (1.27 cm) to the measurement to get the bracelet size you need.
A bracelet is a piece of jewellery that is worn around the wrist and generally has a clasp or other closure. A bangle is a rigid, circular piece of jewellery that is slipped over the hand.
Jewellery Listing Page