SORRY NO ITEMS WERE FOUND.
Please refine your search or try another search term.
Select a price range to suit your budget
SORRY NO ITEMS WERE FOUND.
Please refine the selected filters.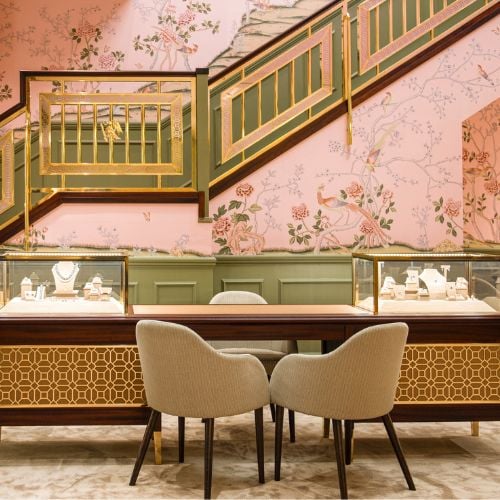 BOOK AN APPOINTMENT
Whether you book an appointment to visit us in person or opt for a virtual consultation from the comfort of your own home, you'll receive the same high standard of service and individual care and attention from our expertly trained consultants who can share designs, discuss gemstone options and even model pieces.
Frequently Asked Questions
Below are the answers to our most commonly asked questions. Should you want to find out more please feel free to Contact Us us and begin your Pragnell experience.
Our Rainbow Collection aims to reflect the dynamic colours of the sky, which are illuminated by the rainbow, drawing inspiration from nature's wonder.
The Rainbow Collection can be considered an essential collection due to its unique and vibrant design inspired by the beauty of nature. The collection captures the colours of the rainbow, which are symbolic of hope, joy, and positivity, and translates them into exquisite pieces of jewellery. The collection's use of precious gemstones and intricate craftsmanship further adds to its value and appeal, making it a coveted addition to any jewellery collection.
A Madagascan sapphire is a sapphire gemstone that has been mined in Madagascar. These sapphires are typically highly prized for their deep, intense blue colour and excellent clarity. Madagascan sapphires are known to be some of the finest sapphires on the market.
Rainbow jewellery can be worn every day, but it is important to take proper care to ensure that the jewellery stays in good condition. While sapphire is a durable gemstone, it can still be scratched or damaged by impact or exposure to chemicals. Here are some tips to keep in mind:
● Avoid wearing rainbow jewellery during activities that could scratch or damage the gemstones, such as sports or heavy manual labour.
● Store rainbow sapphire jewellery separately from other jewellery to prevent scratching. It's best to store it in a soft pouch or jewellery box with individual compartments.
● Clean rainbow jewellery regularly with a soft, damp cloth to remove dirt and oil buildup. Avoid using harsh chemicals or abrasive cleaners that could damage the gemstones.
Take rainbow jewellery to a professional jeweller for cleaning, polishing, and inspection at least once a year to ensure that the gemstones are secure and the metal settings are in good condition. At Pragnell, we provide
jewellery polishing and cleaning services
to help your jewellery shine like new again.
Jewellery Listing Page