SORRY NO ITEMS WERE FOUND.
Please refine your search or try another search term.
Select a price range to suit your budget
SORRY NO ITEMS WERE FOUND.
Please refine the selected filters.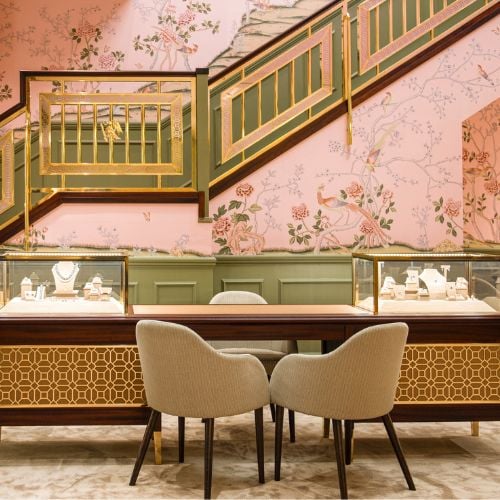 BOOK AN APPOINTMENT
Whether you book an appointment to visit us in person or opt for a virtual consultation from the comfort of your own home, you'll receive the same high standard of service and individual care and attention from our expertly trained consultants who can share designs, discuss gemstone options and even model pieces.
Frequently Asked Questions
Below are the answers to our most commonly asked questions. Should you want to find out more please feel free to Contact Us us and begin your Pragnell experience.
Topaz occurs in a wide range of colours, but its most common and popular hues are yellow, blue, and pink. Yellow topaz can vary from pale yellow to deep golden shades, while blue topaz ranges from light sky blue to vibrant Swiss blue or London blue. Pink topaz, on the other hand, can display delicate pastel pink to intense magenta tones.
Gemstones that can resemble topaz in appearance include citrine, yellow sapphire, and yellow zircon. Yellow topaz may also be mistaken for imperial topaz, which is a more rare and valuable variety of topaz. However, each gemstone possesses its unique characteristics and properties, distinguishing them from genuine topaz.
To determine if a topaz is real, closely examine its colour and clarity. Genuine topaz typically displays clear and vibrant colours, while fake ones may appear cloudy or dull. Additionally, seek the assistance of a professional gemmologist or jeweller, who can use specialised tools to accurately authenticate the topaz and distinguish it from imitations or synthetic alternatives.
Topaz is often associated with love, affection, and positive energy. This gemstone is believed to bring joy, prosperity, and confidence to its wearer, making it a cherished symbol of strength and success. Topaz is also considered a stone of creativity, thought to inspire fresh ideas, and enhance one's artistic abilities.
Yes, topaz jewellery is a popular choice that remains stylish due to its wide range of vibrant colours and affordability. From warm golden tones to dazzling blues, topaz offers versatility and elegance, making it a sought-after gemstone for both casual and formal wear.
Yes, you can wear topaz jewellery every day, as it is relatively durable. However, like all gemstone jewellery, it's essential to handle it with care and avoid exposing topaz to harsh chemicals or activities that may cause damage to the stone or its setting.
To care for topaz jewellery, avoid exposing it to harsh chemicals and extreme temperature changes. Clean gently with mild soapy water and a soft brush and avoid steam or ultrasonic cleaners that can damage the gemstone. Store topaz pieces separately to prevent scratching and avoid prolonged exposure to sunlight, as it may cause fading or colour changes over time. Regularly inspect and have them professionally cleaned by a jeweller to maintain their brilliance and beauty.
About Topaz
Topaz, named after the Greek island "Topazios" in the Red Sea, is a captivating gemstone renowned for its various colours, including yellow, blue, and pink.

Throughout history, topaz has been often mistaken for other gemstones due to its colour range. Ancient civilisations, like the Egyptians and Greeks, believed topaz had divine powers, associating it with the sun god Ra and the goddess Aphrodite.

This gemstone was considered a symbol of strength and protection, thought to dispel negative energies, and enhance one's willpower. Today, topaz is cherished for its brilliance and versatility, gracing exquisite jewellery pieces that evoke a sense of elegance and sophistication.
Jewellery Listing Page