SORRY NO ITEMS WERE FOUND.
Please refine your search or try another search term.
Select a price range to suit your budget
SORRY NO ITEMS WERE FOUND.
Please refine the selected filters.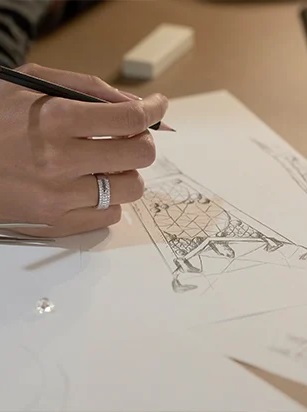 Discover Our Bespoke Service
Design and create a unique jewel, custom-made just for you. We'll bring your dream to life; the only limit is your imagination.
Frequently Asked Questions
Below are the answers to our most commonly asked questions. Should you want to find out more please feel free to Contact Us us and begin your Pragnell experience.
Platinum is easier to maintain than white gold and is hypoallergenic because of its purity. Platinum is made of 95% pure platinum whereas gold is 75% pure gold in comparison. The colour of white gold can fade over time, whereas platinum will always retain its colour.
Both metals have a silver finish but are completely different in their mineral and alloy composition. White gold is made of 75% gold and 25% palladium, whereas platinum is 95% pure platinum and 5% cobalt.
Platinum engagement rings can be costlier due to the purity of the metal.
Platinum jewellery is the perfect choice for a lifetime of everyday wear. Its density and weight make it a durable jewellery metal. Platinum does not wear away and holds precious stones firmly and securely.
Platinum rings will not wear down, but they could lose their brilliance or shiny finish with daily wear which is expected of all metals. However, they can be polished to restore their original brilliance.
Find out more about our
Jewellery Polishing and Cleaning service
.
Platinum engagement rings will last a lifetime as it is of a strong and pure metal that is resistant to chipping and tarnishing.
Over gold, platinum has earned a reputation for being rare for several reasons. For starters, gold is far more abundant in the earth's crust, making platinum rarer.
Platinum is extremely durable and strong making it ideal for jewellery that is worn daily. It is highly resistant to stress and withstands both extreme heat and extreme cold, which means platinum jewellery will retain its good looks better than any other metal.
About Platinum Engagement Rings
Beautifully lustrous and naturally hardwearing, platinum engagement rings are the most popular choice of all precious metals. Platinum's incredible durability and strength allows a lifetime of wear and enjoyment. Originally discovered in the late Victorian period, platinum revolutionised the jewellery industry as it permitted more refined, intricate design and kept the complete absence of colour in high quality diamonds. As engagement rings are worn together with wedding bands and eternity rings, it is important that you choose platinum across your bridal set to ensure no softer metal is worn down by platinum over time.
Engagement Listing Page