SORRY NO ITEMS WERE FOUND.
Please refine your search or try another search term.
Select a price range to suit your budget
SORRY NO ITEMS WERE FOUND.
Please refine the selected filters.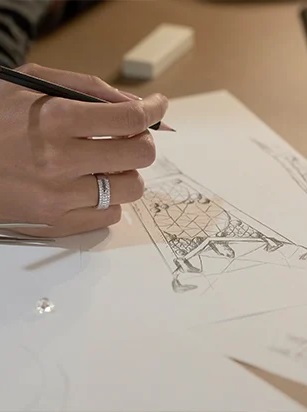 Handcrafted
Discover Our Bespoke Service
Design and create a unique jewel, custom-made just for you. We'll bring your dream to life; the only limit is your imagination.
Frequently Asked Questions
Below are the answers to our most commonly asked questions. Should you want to find out more please feel free to Contact Us us and begin your Pragnell experience.
Gold engagement rings are a timeless choice. Yellow gold tended to be the standard for engagement rings in the 20th century and since then brides and grooms have been presented with more choices in materials.
Yellow gold is usually a less expensive metal option than platinum for engagement rings.
Whether they look better is down to personal taste. However white diamonds tend to be mounted in platinum, as the yellow gold colour can reflect in the diamond, reducing its whiteness.
Yellow gold engagement rings are highly durable and long-lasting, making them a great choice for a ring to wear for life.
Yellow gold tends to be a little less popular than platinum, but it is making a resurgence as people look to find a ring that's a little different.
The main difference between them is the gold percentage. 18K gold means it's made of 75% gold and 25% alloyed metals whereas 14K gold is made of 58% gold. At Pragnell we only use 18ct Gold, due to the colour and durability of this precious metal.
About Yellow Gold Engagement Rings
The rich lustrous tones of yellow gold give a warm and inviting finish to an engagement ring. Often seen as the traditional precious metal of choice, whether crafted in a vintage design or bold, contemporary look, yellow gold is sure to add a unique charm to the piece. As engagement rings are worn together with wedding bands and eternity rings, it is important that you choose the same quality of gold across your bridal set to ensure they wear together over time. Our beautifully finished gold engagement rings are available in a multitude of ring styles and diamond shapes, all handcrafted by our expert craftsmen.
Engagement Listing Page