SORRY NO ITEMS WERE FOUND.
Please refine your search or try another search term.
Select a price range to suit your budget
SORRY NO ITEMS WERE FOUND.
Please refine the selected filters.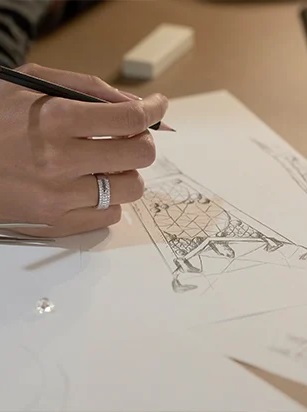 Handcrafted
Discover Our Bespoke Service
Design and create a unique jewel, custom-made just for you. We'll bring your dream to life; the only limit is your imagination.
Frequently Asked Questions
Below are the answers to our most commonly asked questions. Should you want to find out more please feel free to Contact Us us and begin your Pragnell experience.
Rose gold is a great choice for an engagement ring. Rose gold engagement rings haven't been traditionally as popular as other golds and platinum but are rising in popularity as people look for more unique pieces.
When it comes to rose gold, the copper that's used to create it costs less than other types of alloy metals. That means rose gold can be slightly less expensive than white or yellow gold. But remember, the price is based primarily on the amount of pure gold, not the alloy.
Over time the rose gold colour of an engagement ring can fade and will require care to keep it looking its best.
As with any gold, a pure gold ring would be too soft and susceptible to scratches. All gold rings will be mixed with other alloys to make them strong and durable, so you do not need to worry.
Rose gold does not scratch easily. One of the reasons rose gold is becoming more popular with engagement rings is because of its resistance to scratching and its durability.
Rose gold is the happy medium between yellow gold and white gold and has a warm, romantic feel to it. The contrast between rose gold and diamonds gives a striking effect that is admired by many.
Yes. Rose gold is so durable that it does not require additional plating layers like other variations of gold do and does not tarnish with age.
Rose Gold Engagement Rings
Rose gold engagement rings have become increasingly popular over the last few years. Sometimes referred to as pink gold or red gold, rose gold has a copper-like look and is the warmest colour of any precious metal. It goes with any other colour metal and contrasts beautifully with diamonds, making it a great choice for engagement rings.
Engagement Listing Page