SORRY NO ITEMS WERE FOUND.
Please refine your search or try another search term.
Select a price range to suit your budget
SORRY NO ITEMS WERE FOUND.
Please refine the selected filters.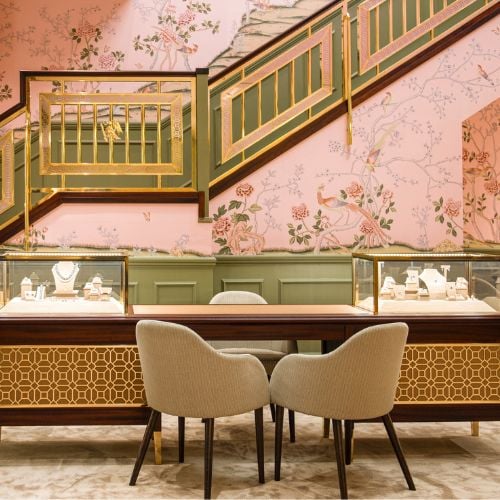 BOOK AN APPOINTMENT
Whether you book an appointment to visit us in person or opt for a virtual consultation from the comfort of your own home, you'll receive the same high standard of service and individual care and attention from our expertly trained consultants who can share designs, discuss gemstone options and even model pieces.
About Antique Mauboussin Jewellery
The Parisian firm of Mauboussin was founded in 1827 as the Maison Noury, and developed a reputation over the remainder of the 19th-century for the quality of its creations. Purchased by Georges Mauboussin in 1898, the firm became hugely successful during the Art Deco period, with their stylish and chic designs being featured in fashion illustrations and photographs. Using only the best quality gemstones was the key to their success, with surviving examples showcasing vibrant emeralds, rubies and sapphires in breath taking, bold and eye-catching settings. Sparkling colourless diamonds were also used to further enhance these magnificent stones and define their sculptural creations. The silver screen icon and renowned jewellery collector, Marlene Dietrich (1901-1992), wore a statement Mauboussin bracelet that was set with a magnificent 127ct cabochon emerald.

At Pragnell, we always showcase an exceptional range of antique and vintage Mauboussin jewellery that are as wearable today as they were one hundred years ago.
Antique Listing Page