SORRY NO ITEMS WERE FOUND.
Please refine your search or try another search term.
Select a price range to suit your budget
SORRY NO ITEMS WERE FOUND.
Please refine the selected filters.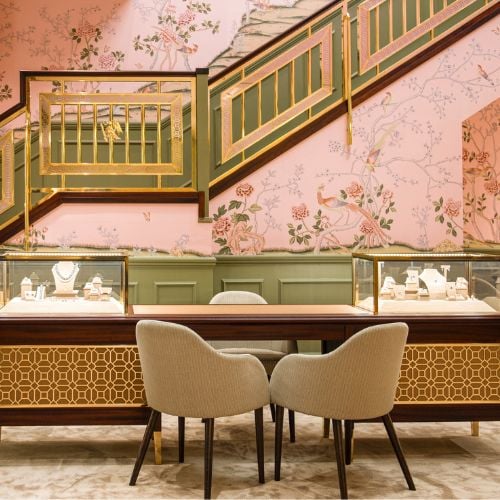 BOOK AN APPOINTMENT
Whether you book an appointment to visit us in person or opt for a virtual consultation from the comfort of your own home, you'll receive the same high standard of service and individual care and attention from our expertly trained consultants who can share designs, discuss gemstone options and even model pieces.
Frequently Asked Questions
Below are the answers to our most commonly asked questions. Should you want to find out more please feel free to Contact Us us and begin your Pragnell experience.
Garnet is typically associated with a deep red colour, resembling the hue of a ripe pomegranate seed. However, garnets can also occur in a range of other colours, including orange, yellow, green, and even rare blue varieties.
Gemstones that can resemble garnet in appearance include red spinel, red tourmaline (rubellite), and certain varieties of red sapphire and red zircon. These gems may exhibit similar deep red hues and possess a similar fiery brilliance, making them visually reminiscent of garnet.
To determine if a. garnet is real, examine the stone closely for any visible imperfections, as genuine garnets may have slight inclusions or colour variations. Additionally, seek the assistance of a professional gemmologist or jeweller, who can use specialised tools to accurately authenticate the garnet and distinguish it from imitations or synthetic alternatives.
Garnet symbolises love, passion, friendship, and loyalty. It is often associated with qualities such as strength, vitality, and emotional balance. Additionally, garnet is believed to bring good luck, promote positive energy, and foster harmony in relationships.
Yes, garnet jewellery remains in style due to its vibrant colours and versatility. Its rich red hues complement various outfits and add a pop of colour to any ensemble, making it a popular choice among fashion-conscious individuals and jewellery enthusiasts alike.
Yes, you can wear garnet jewellery every day, if you take proper care of it. Garnets are relatively durable gemstones, but it's essential to avoid exposing them to harsh chemicals or rough activities that may cause damage to the stones or settings.
To care for garnet jewellery, avoid exposing it to harsh chemicals or abrasive materials. Clean with a mild soap and warm water, using a soft cloth for gentle wiping. Store separately to prevent scratches and avoid prolonged exposure to direct sunlight or extreme temperature changes.
About Garnets
Originating from the Latin word granatus, meaning pomegranate, in reference to its vibrant red colour, some garnets do resemble pomegranate seeds in colour, size, and shape.

Dating back to ancient times, the garnet is one of the oldest known gemstones and has a rich and varied history adorning the necklaces of pharaohs in ancient Egypt and used as signet rings in ancient Rome to seal important documents. Cultures all over the world have prized this gemstone for its beautiful colours and durability. There is a widespread belief that garnets have the power to shield their wearers from harm, with Saxon and Celtic kings favouring jewellery inlaid with red garnets because of its supposed protection.
Jewellery Listing Page