SORRY NO ITEMS WERE FOUND.
Please refine your search or try another search term.
Select a price range to suit your budget
SORRY NO ITEMS WERE FOUND.
Please refine the selected filters.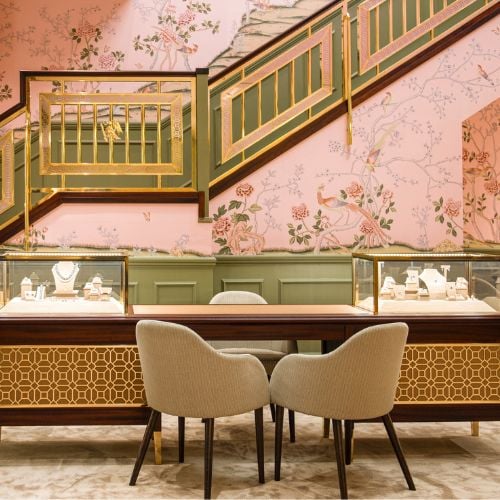 BOOK AN APPOINTMENT
Whether you book an appointment to visit us in person or opt for a virtual consultation from the comfort of your own home, you'll receive the same high standard of service and individual care and attention from our expertly trained consultants who can share designs, discuss gemstone options and even model pieces.
Frequently Asked Questions
Below are the answers to our most commonly asked questions. Should you want to find out more please feel free to Contact Us us and begin your Pragnell experience.
Jadeite comes in a variety of colours, but its most prized and well-known colour is a rich, vibrant green. However, it can also be found in shades of lavender, white, yellow, and black, but green remains the most sought-after and valuable hue for this gemstone.
Certain gemstones that may resemble jadeite in appearance include nephrite jade, serpentine, and prehnite. However, jadeite is distinguishable by its vibrant green colour and specific crystal structure, which sets it apart from these other stones. The unique allure and cultural significance of jadeite make it a highly esteemed gemstone in its own right.
To determine if a jadeite is real, look for its characteristic vibrant green colour, which is a signature of high-quality jadeite. Genuine jadeite should also exhibit a smooth texture and feel cool to the touch. Seek the assistance of a reputable jeweller or gemmologist who can perform various tests, such as a scratch test or a specific gravity test, to accurately authenticate the jadeite and distinguish it from imitations or other similar-looking stones.
Jadeite is believed to symbolise purity, harmony, and prosperity. It has long been associated with various cultural and spiritual meanings, representing good luck, wisdom, and protection. In many cultures, jadeite is considered a stone of abundance and is revered for its ability to bring balance and positive energy into the lives of its wearers.
Yes, jadeite jewellery is in style and highly prized for its rich green colour and cultural significance. With its association with good luck, harmony, and protection, jadeite holds a special place in the hearts of many, making it a sought-after gemstone for those looking for meaningful and fashionable jewellery pieces. Its versatility and natural beauty make it a popular choice for both casual and formal occasions.
Yes, you can wear jadeite jewellery every day as it is a durable gemstone. However, to preserve its beauty and avoid potential damage, it's essential to handle it with care and protect it from harsh chemicals or rough activities.
To care for jadeite jewellery, avoid exposing it to harsh chemicals, extreme temperature changes, and direct sunlight, as prolonged exposure may cause damage or fading. Clean gently with a soft cloth or a mild soapy solution, but avoid using ultrasonic or steam cleaners, which can harm the gemstone. Store jadeite pieces separately to prevent scratching, and periodically inspect and have them professionally cleaned and re-polished to maintain their lustre and beauty.
About Jadeite
Jadeite, a captivating gemstone with its rich green hues, has a fascinating history that dates back thousands of years. Named after the Spanish phrase "piedra de ijada," which means "stone of the side" due to its traditional use as a remedy for kidney problems, jadeite has been cherished by various ancient cultures for its symbolic significance and protective properties.

Throughout history, jadeite has been considered a symbol of power, wealth, and prosperity, revered by cultures like the Mayans, Chinese, and Maori, who crafted intricate carvings and precious jewellery pieces from this remarkable gemstone. Today, jadeite continues to be highly prized for its vibrant colours and cultural significance, embodying both elegance and a deep connection to ancient heritage.
Jewellery Listing Page